The best 2 person inflatable hot tubs are determined by price, quality and size. What makes 2 person hot tub different than 4 person hot tub?
When people search for 2 person inflatable hot tub, they are referring to the price portion of the definition of the best hot tub. They should usually be priced below $500 mark while those for 4 persons can go up to $1,500. Both types will have similar features. It mainly defers in the capacity and pricing options.
So today, I want to show you the actual best 2 person inflatable hot tubs that will be affordable and have enough features so you can enjoy with your partner.
In case you are looking for the best 4 person inflatable hot tubs under $3000, you can do so by clicking here.
ALEKO HTIO2BRWH Oval Inflatable Hot Tub Spa with Drink Tray and Cover, 2 Person Portable Hot Tub - 145 Gallon Brown and White
2-Person Portable Hot Tub: The oval hot tub has 145-gallon water capacity and holds up to 2 people
Spa Tub: Ideal for joint/muscular pain, improved sleep, stress and anxiety relief; also great for parties or personal relaxation
Hot Tub: Heats up to a maximum temperature of 108 degrees; For safest use, it is recommended to set your temperature at 104 degrees or lower; Heating time varies depending on the temperature of the water used to fill the tub; heats 1-3 degrees F/h
Built-in Features: 1500-watt power pack, 900-watt heater, 600-watt bubbler, 12 Volt AC filter pump (420-gallon capacity); Includes: An inflatable hot tub, a fitted cover, 1 inflation hose, 1 filter cartridge, its cover, a ground cloth, and a rubber plug
Portable Hot Tub: Outer PVC thickness - 0.66mm/264 gauge; Interior PVC thickness - 0.60mm/240 gauge. Outer dimensions - 75 x 47 x 26 inches; Inner dimensions - 59 x 32 x 26 inches
So one of the best picks out there when it comes to 2-person inflatable hot tubs is the ALEKO hot tub that has honestly blown all others out of the water. And I mean even those on the expensive end. So let me give you some crucial information about ALEKO.
ALEKO includes a very strong blower and you will see that the bubbles actually give you a great massage.
The heater is superb. It will heat the water to 104 F in 2 to 2.5 hours from 98 F which the maximum recommended temperature for any hot tub.
When it comes to cleaning and keeping it clean, ALEKO features a small filter that keeps water clean (as long as you use bromine and clarifier after each use)
If you want to use the blower, keep in mind that the water temperature might go 1 or 2 degrees down due to circulation and exposing the deep water to the surface. What you could do is to set the temperature to 105 and count that the most it will drop is 2-3 degrees within 20 – 30 minutes so you are still on point after that.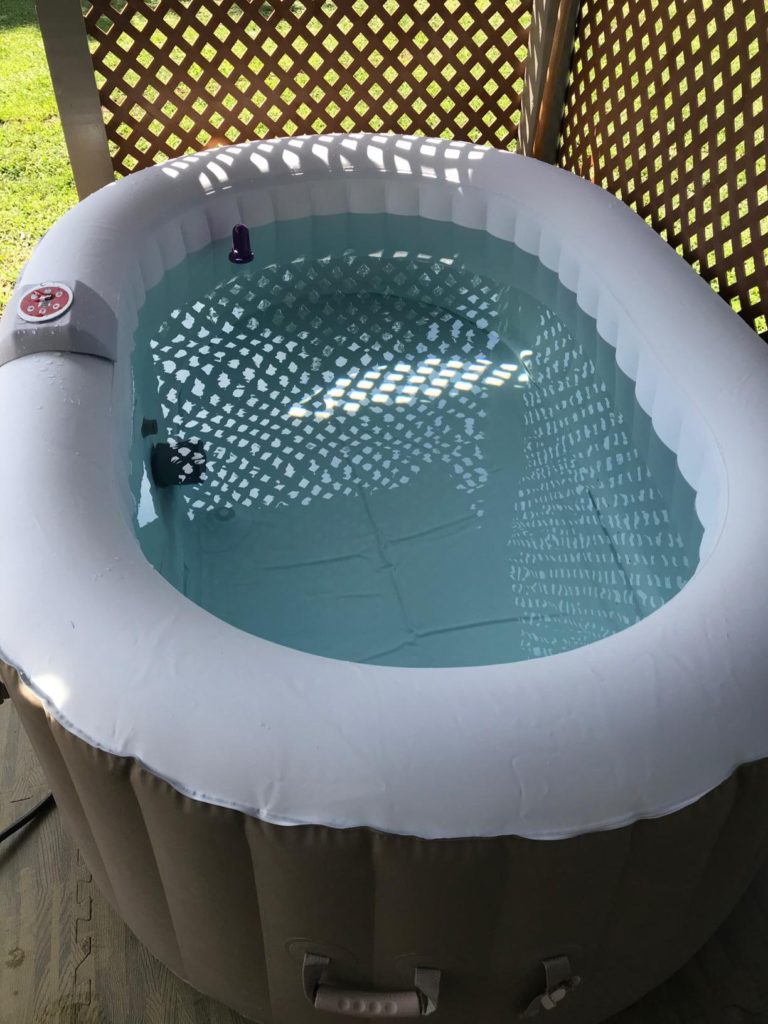 You will also notice how well the hot tub is built. It feels strong to the touch, holds air and heat perfectly. If there is any ability that you need your hot tub to have that's the heat retention and firm structure. ALEKO is built with that in mind.
I assume that you are not thinking about getting a $10k regular hot tub yet so this is a great option for you at 20x price reduction and 80% the experience of the regular hot tub.
If you decide to place your hot tub in a mud room, a garage basement or a heater porch, then you don't ever need to worry about your water temperature.
Recent Posts
link to Do Hot Tubs Need A Ground Rod?
While it is a general misconception that sinking a ground rod for a hot tub provides added safety, it actually increases the risk of problems if it is not well-bonded to the service EGC. Simply put,...
link to Can A Hot Tub Go On A Brick Patio? [Yes]
Yes, a hot tub can be placed on a patio. It works perfectly outdoors or indoors as long as you are comfortable with it. The ideal location to install a hot tub in your home depends on your house...