There are two possible reasons why you would want to soundproof a loud hot tub motor. You are either annoyed by the neighbor's hot tub sound in the middle of the night or you are simply looking to reduce the noise of your own hot tub and be a good neighbor.
Here is how you could soundproof your loud hot tub under 10 minutes.
Try adding foam, or anything else in between the motor base and the floor. Please do not insulate around the motor. What you want is to eliminate all vibration between the pump and the cabinet.
The hot tub pump itself is not very noisy. Additionally, if possible, you might be able to use wire or strings to actually raise the hot tub pump from its mount, and suspend it in the air. That's one way to having quiet hot tubs. I will also address some other hot tub noise reduction systems that you can use later in the article. Hot tub soundproofing solves many issues and is generally a broad topic. So let's go over some options.
Intro
TL;DR
Update 03/2021
In case you just landed here because you have a problem with your hot tub noise, I figured I could just give you straight up what products work for people. I will be updating this table as I find more success with other items, so feel free to come back from time time.
The Most Practical
BXI Double Noise Insulation Soundproofing Foam - 39.4 X 13.4 X 1 Inches Egg Crate Sound Proof Acoustic Foam Panels - Sound Dampening Panels for HVAC, Pipe, Machine, Wall and Door
TroyStudio Triple Noise Insulation Sound Proof Foam Panel, 19 X 16 X 0.7 Inches Pack of 1 Self-Adhesive Closed Cell Foam Soundproofing Foam, Car Sound Deadening Mat, Egg Crate Acoustic Foam Panel
DAP 7565000043 Touch 'n Foam 4001031212 MaxFill Maximum Expanding Sealant, 12Oz, Tan
Diversitech MP-4E Eva Anti Vibration Pad, 4 x 4 x 7/8"
Fstop Labs Acoustic Panels, 2" X 12" X 12" Acoustic Foam Panels, Studio Wedge Tiles, Sound Panels wedges Soundproof Foam Padding Sound Insulation Absorbing (12 Pack, Black)
BXI Soundproofing Closed Cell Foam - 2 Pack Self-Adhesive 16'' X 12'' X 1.8'' Thickened Egg Crate Sound Proof Foam - Acoustic Foam Panels Great for Noise & Thermal Insulation (Black)
BXI Double Noise Insulation Soundproofing Foam - 39.4 X 13.4 X 1 Inches Egg Crate Sound Proof Acoustic Foam Panels - Sound Dampening Panels for HVAC, Pipe, Machine, Wall and Door
TroyStudio Triple Noise Insulation Sound Proof Foam Panel, 19 X 16 X 0.7 Inches Pack of 1 Self-Adhesive Closed Cell Foam Soundproofing Foam, Car Sound Deadening Mat, Egg Crate Acoustic Foam Panel
DAP 7565000043 Touch 'n Foam 4001031212 MaxFill Maximum Expanding Sealant, 12Oz, Tan
Diversitech MP-4E Eva Anti Vibration Pad, 4 x 4 x 7/8"
Fstop Labs Acoustic Panels, 2" X 12" X 12" Acoustic Foam Panels, Studio Wedge Tiles, Sound Panels wedges Soundproof Foam Padding Sound Insulation Absorbing (12 Pack, Black)
Hot Tub Noise Reduction Using Plywood Under The Hot Tub
The first step to hot tub soundproofing is to try using plywood under your hot tub. People have had surprising luck by simply taking a sheet of exterior-grade plywood and placing it under the hot tub. They put the spa back down, and they were all very excited that the sound transmission problem was gone. It also seemed to do great with tying any loose deck boards together. Additionally, it closed off the air spaces between the deck boards that can act as amplifiers: Think of a "sound hole" on an acoustic guitar.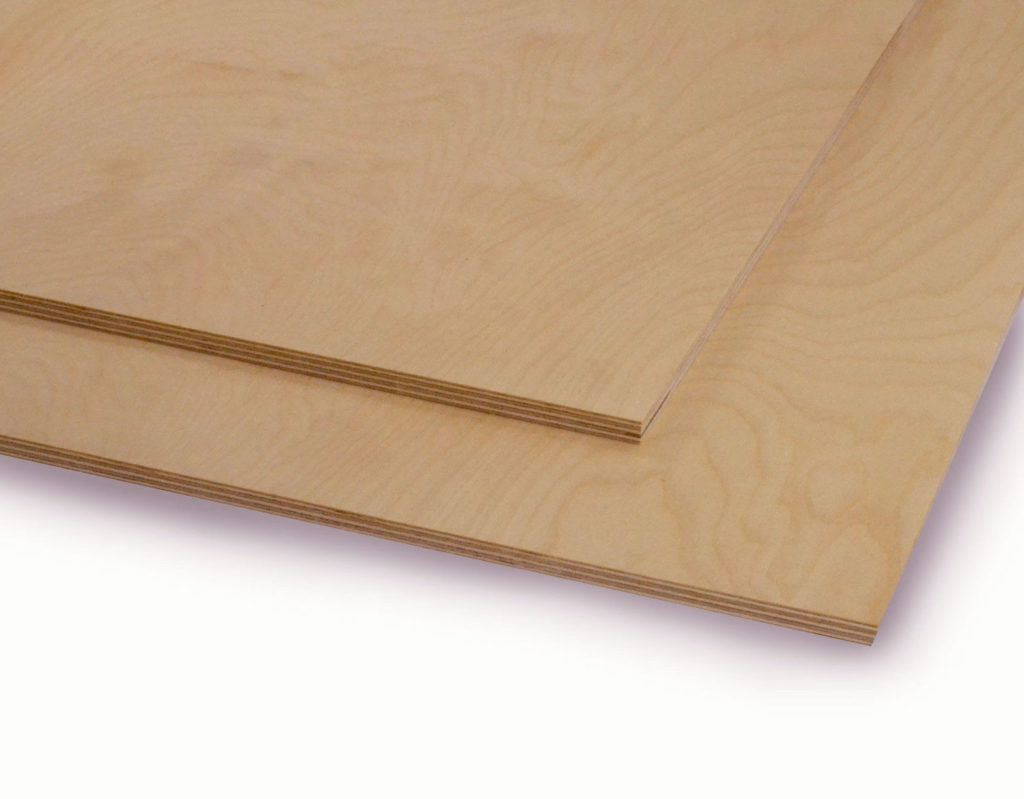 And this is a great approach since having a cheap price of a sheet of ply, some free time on your end, some wood sealer, and a tub refill, you could sure give it a try. And the big benefit here is, if it doesn't work for this specific reason, know that you haven't wasted anything. Because you really want a rock-solid surface if you want to go ahead and put down something resilient.
If you don't want to bother getting it from a local store, I found this on Amazon for you.
Dynamat Soundproofing For Your Hot Tub
This is the best choice that will for sure reduce the noise of your hot tub motor. It is an automotive sound killing material, something like anti vibration mat for your hot tub. They sell this for custom audio and flooring but it helped to solve hot tub noise issues as well.
Here is how it looks when you wrap your car door from the inside: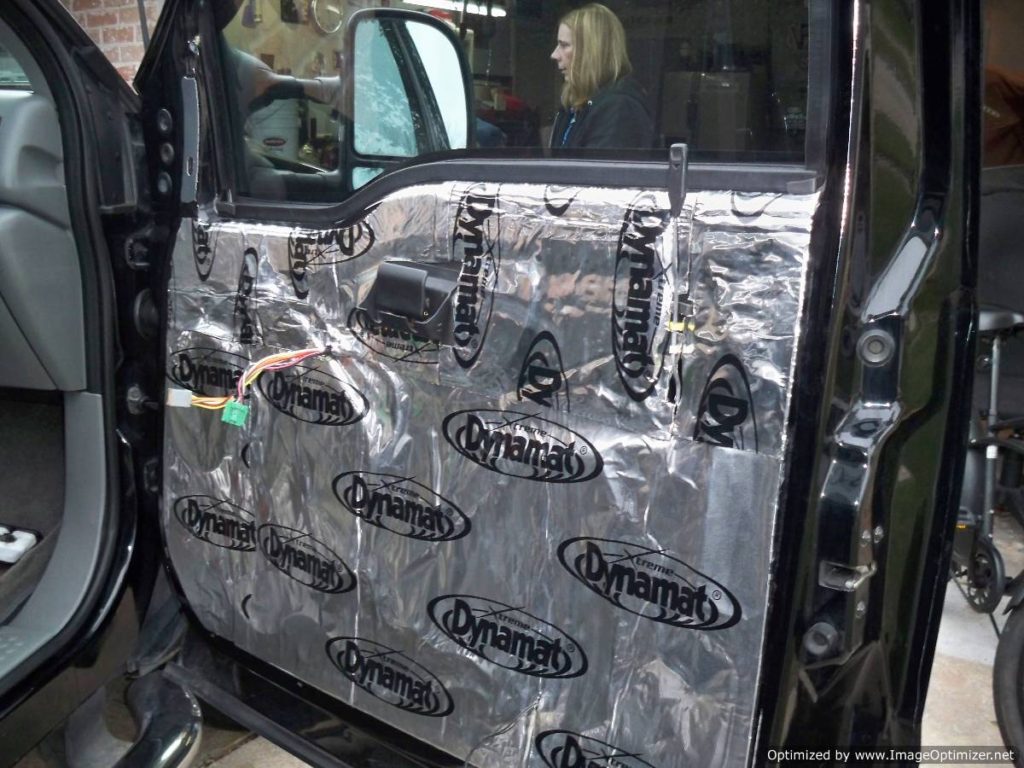 It's called Dynamat, and you can check its price on Amazon. Try installing it on the backside of the panels if they are what you think is causing the vibration and/or loud noise.
You can also wrap the inside of the hot tub cabinet and even your enclosure box from the inside. Works really well!
Soundproofing Foam
Have you tried this soundproofing foam? This is the latest that I found people buy to get rid of the noise.
This foam is used in engineering projects to reduce noise by 24dB. If it is good for pipes, HVAC and machines, it will be good for your hot tub. It has two layers of insulations basically, an absorption layer and soundproofing layer.
BXI Double Noise Insulation Soundproofing Foam - 39.4 X 13.4 X 1 Inches Egg Crate Sound Proof Acoustic Foam Panels - Sound Dampening Panels for HVAC, Pipe, Machine, Wall and Door
【SPECIFICATION】: Size: 39.4''L X 13.4''W X 1''H; Covering 3.66 square feet; Weight: 2 lbs; Material: high-density eggcrate foam and sturdy rubber sound deadening blanket
【DOUBLE NOISE INSULATION】: This soundproof foam panel consists of two layers. One egg crate foam absorption layer & one rubber sound proofing layer for double acoustic insulation. Average Transmission Loss: 24dB. Absorption Coefficient:0.74. NRC: 0.75
【ABSORPTION & NOISE REDUCTION】: BXI double noise reduction sound proof foam is specially designed by professional sound engineers to meet the needs of both absorption and soundproofing. The acoustic foam layer is able to absorb noise and the overall echo in a space. The rubber layer is effective at dissipating vibrational energy before it can build up
【ENDLESS APPLICATION】: BXI sound barrier is eco-friendly, non-toxic, waterproof and can keep heat. Perfect for engineering projects like HVAC, drain pipe, machine, wall, door and more. Available for both outdoor & indoor work
【EASY TO USE】: It's easy to cut this noise insulator into various sizes. And it's flexible and sturdy. When using it to wrap pipes, please keep the foam side towards pipe. If you need to stick it to somewhere, 3M VHB double-sided tape or construction adhesive is highly recommended
Acoustic Panels Soundproof Studio Foam 
I found another great thing for you to use if you are having issues with a loud hot tub. These are acoustic foam panels that are usually used in a studio, but depending on where your sound is coming from, and you have a bit more room to fit the foam and not just the Dynamat, you can go for it and give it a try.
If this good enough to soundproof the whole studio, it will for sure soundproof your hot tub.
Sale
Burdurry 50 Pack Acoustic Panels Soundproof Studio Foam for Walls Sound Absorbing Panels Sound Insulation Wedge for Studio, 1" X 12" X 12" (Black)
【Eco-friendly and Safety】Made of high quality environmentally polyurethane foam, these studio foam are durable and effective, no health risks, safe to use.
【Noise Absorbing】Our sound foam panels can dampen and diffuse mid to low frequency sound waves inside of a room, to minimize interference, increases increasing sound clarity.
These soundproofing foam panels come with 50 pack in the package, each tile is 1 square foot of 1 inch thick acoustic wedge, 12 pack covers an area of 12 square feet.
【Easy to Install】These studio sound absorbing panels can be used as acoustic cover for walls, ceilings and doors, just easily attach it with staples, nails, screws, tacks or glue.
【Widely Usage】Our sound dampening foam panels are great for recording studios, vocal booths, control rooms, also ideal for home theaters, professional movie theaters, concert halls and more.
Soundproof Box For Your hot Tub Pump
Here is another way for you to potentially solve your issue. The way this approach works is the following. 
First, at the source, try lifting the pump of the slab. Then lay a vibration pad right underneath the pump.
Next, address the path of the noise. While allowing breathing room, get a box enclosure without a lid. Keep in mind that the heater or pump needs a vent. Then go and make a moderate size vent allowing just enough airflow. Then face the vent away from your home. For the inside, the enclosure uses Mass Loaded Vinyl (MLV), absorbent mat and acoustical caulking. Just to help you make it all the way to the end, I found a good anti vibration mat for hot tub for you on Amazon as well. Make sure that the open end of the enclosure faces the slab. Finally, along the edges where the enclosure meets the slab, please glue strips of the absorbent mat to prevent vibration.
Lastly, let us soundproof the receiver. If you do not have a wall, build one as soon as possible. Preferably, make the wall as tall, if not taller than your home. You can also begin to plant trees and shrubs so they can absorb the sound. If it is a case of a particular room that is loud, then address soundproofing the room itself.
All these suggestions are general and meant to be used by most "do it yourselfers." The soundproof box for hot tub pump usually performs the best.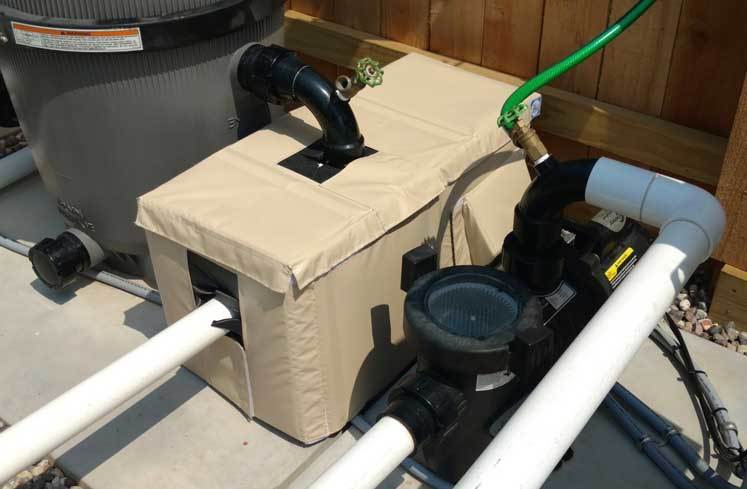 More Hot Tub Soundproofing Things To Check
I found another case that was successful. Sometimes it's a combination of different things that are causing the noise and not the hot tub motor itself. Check if any of the following can apply to your problem:
The suction pipe was quite rigid, and it was supported by a wooden block that was attached to the frame of the hot tub next to a side panel. The side panel then vibrated like an acoustic guitar body amplifies a string pluck. The pipe was replaced with a flex pipe and they removed the block. 
Then the discharge pipe was also rigid, connected directly to the heater, which was rigidly plumbed to the filter body. The pipe was then replaced with flex. 
Even though having a plywood base can be a good thing, in this particular instance, the base was causing the issue. The pump was screwed down to a plywood base and making the plywood vibrate like a drumhead. A couple of rubber mounts installed fixed the issue. 
The power cable was jammed up against the equipment door and pump, passing the noise as the suction pipe support did, so zip ties were used to isolate its contact points to the control box only. 
The bonding wires (those are the bare wires running from the equipment to the control box) were coming in direct contact with the hot tub pump motor and rattling. The wires were bent clear of any contact except their attachment points.
After solving these problems, it seemed like a good idea to go one step further and add a weather stripping (single side adhesive) to the contact points right between the equipment door and the hot tub. This will additionally secure the tub against the noise.
Consider Turning The Hot Tub Pump Off In The Evening
Let's face it, you wouldn't have any problems if the pump weren't running at all. While this doesn't completely solve your problem, I still think it is worth considering again because generally, people don't want to compromise for the sake of maintaining great relationships with their neighbors. What you can do is to put a timer on so your pump wouldn't run during the night. 
Troubleshoot The Noise. Maybe You Need To Replace Parts
A general rule of thumb is that the higher quality tubs are the quieter they get. This means that you can certainly expect different noises much sooner from a cheaper hot tub than a higher quality hot tub.  
A lot of this is related to the type and amount of insulation used. If you think noise will become a worry for you, make sure you purchase a unit that has just the right amount of insulation surrounding the hot tub motor.
The following subheadings are all related to sound issues and Dynamat from the beginning of this article is highly effective in suppressing loud, unwanted sounds and irritating noises.
I already shared the link to where you can get it on Amazon. Here it is again so you don't have to scroll up there.
I Can Hear A Clicking Sound
A hot tub that makes a clicking noise might, in fact, be working just fine. However, when the pump doesn't turn on top speed, and everything you hear is clicking, or the heater isn't heating and you hear a clicking sound, they might be coming from hot relays or contactors. If you attempt to find the offending part, do this attentively, together with the power turned away, as a shock hazard could exist.
My Hot Tub is Squealing
A spa or hot tub that makes a squealing noise will usually have a pump that's nearing the end of a life span. The hot tub motor bearings specifically, finally wear out after quite a few years, and will start to shriek like a banshee!  
The sound becomes increasingly louder over time, and if you don't fix it, it will lead to hot tub motor failure. To confirm that the noise is really bad bearings, close all valves and remove the hot tub motor from the wet end.
Turn on electricity for a few seconds and if it still makes the noise, then for sure you want to do a complete hot tub motor rebuild from a local motor shop or maybe even replace your hot tub motor, or buy a whole new hot tub pump. 
Softer squeals may be heard coming from open-air intake jets or any spa ozonators. They create a minimal squeal when they are operating which shouldn't be a problem.
Humming Sounds
A hot tub pump motor may make a humming sound, that is really coming from the motor capacitor itself. Sometimes the humming noise would precede the popping of the circuit breaker. 
Vibrations can be another common source of a spa humming noise coming either from the sub-floor or equipment housed beneath the hot tub. As suggested above, make sure that all equipment is tightly secured, or strapped with zip lines if needed. Rubber patio squares can also be used to reduce the noise.
What's Buzzing In My Hot Tub
Sometimes the buzzing sound can resemble the squealing or humming sound, and can even be a variation on the clicking sound.
Most of the time the buzzing is caused by a pump or blower motor that is having a hard time starting. In other cases it is a heater contactor or relay that's causing the buzzing noise.
It is also possible that some ozonators can cause this squeal on them. To be 100% sure about what's making all that noise, first, go and check your control panel for any error codes. After all, stick your head under there with a flashlight and listen for the noise. It could really be something as simple as a cord leaned against the body.
How to silence a hot tub
Most hot tubs release at least 41 decibels (dB) of sound when multiple operations are running. This ranges from brand to brand, and some can have noise as high as 67 decibels (dB). If you have poor insulation, your tub has a wooden deck, or the control box is loose, the noise could be even worse.
To silence your hot tub, you should first understand the primary cause of the noise. For some, it could be that the tub is too close to the ground. Placing plywood between the tub and the floor could solve the problem. If the noise comes from your pump, using a string or a thin wire to raise it off the surface will prevent the vibrational collision, thus eliminating the noise.
You can also use Dynamat soundproofing, (mentioned above) an acoustic panel soundproofing studio foam, or simply turn off the pump at night. If the noise persists, check that all operatives are working accordingly. Something like as little as a loose bolt can cause a lot of physical disturbance, thus causing a lot of noise.
Lay-Z-spa noise reduction system
Noise can be a massive concern for many hot tub users. Lucky for Lay-Z-spa tub owners, the hot tub noise reduction system comes to your rescue. The system is a comfortable fit and also adjustable for all Lay-Z-spa tubs. It is a stand-alone device, so you can check if it fits in your brand's tubs as well.
The noise can be quite unbearable when running all your jets at once but placing a hot tub noise reduction system brings about significant changes. Many spas are significantly noisier than Lay-Z-spa, but it helps to know that you can easily have a conversation in your tub thanks to their noise reduction system.
Anti-vibration mat for hot tub
Anti-vibration mats (mentioned above) for hot tubs are a great way to curb the noise you are so sick of. Most of the market options are of good quality, promising at least 95% noise reduction. They come in different sizes with a self-aligning rubber base. This base is thick enough to take care of the situation and absorb the noise. You also get bolt-isolation rubber grommets to control noise produced around the tub's bolts and screws. One can quickly get a neutral brand option with different accessories.
Inserting anti-vibration mats and rubber noise infusers can be challenging if the tub is full of water. The best time to get them on is when the tub is empty, after your regular cleaning routine or when the tub is new. However, new tub owners are advised to use their tubs for at least a month before deciding they need a soundproof system.
How to make a hot tub quieter (summary)
There are several ways to tone down the noise coming from your hot tub. Here are the summarized tips that you could use:
Buy and insert rubber anti-vibration mats
Lift the tub's pump using a thread or thin wire
Use spray foams designed to reduce the sound from different tub parts
Check for loose pipes and bolts and tighten them
Ensure the pump pressure is right
Place plywood under the tub
Use acoustic panels or Dynamat soundproofing
Ultimately, the best way to solve your problem is by first identifying where the noise is coming from. This way, you will be dealing with a specific issue for a proper solution instead of trying out different methods with no much luck.
How to make hot tub pump quieter
Your hot tub's pump role is to push water through it to the filters and back into the tub's bowl. While a noisy pump may not always mean that something is wrong with the system entirely, it would help to identify why the noise is adamant in the system or around its environs. Never soundproof the pump if it has another underlying problem as this will not solve anything.
To make the pump quieter, remove and clean the system to ensure that no debris is affecting its functionality. Look for loose nuts and tighten them. If the pump is too close to the tub's surface, lift it using a string or a wire piece. This should not affect its functionality if you do so carefully.
Inflatable hot tub noise
Unlike the more permanent hot tubs, inflatable options are not as noisy. The material used to make them are more sound absorbent, thus reducing the noise significantly. However, some people still find the slightest noise quite disturbing. If you need to tone down the pump's sound, try raising it from the ground or checking for any loose parts.
Alternatively, you can use plywood or any other sound absorbing material between the tub's surface and the ground. This reduces the contact between the two, thus reducing the vibration that results in unwanted noise. Check that the jets and filters are working as they ought to, as some noise could be a sign of a dysfunction that needs professional repair.
Neighbor's hot tub humming
Sometimes you have to deal with your neighbor's tub humming, which can be quite uncomfortable, especially if you are sharing a wall. If your neighbors have a hot tub with a wooden deck, then you are in for much more significant noise problems. Many times, a hot tub's humming is caused by a dysfunctional airlock. One can quickly notice an error message on the control panel when this is the problem.
The best way to deal with your neighbor's humming tub is by finding an amicable solution. You can ask your neighbors not to turn on the jets or pump after 9 pm, especially if you have kids sleeping early during school days.
Proper maintenance of your neighbor's tub should not be of your concern unless you are a regular user. However, if the noise problem is getting unbearable, you can advise them to check that everything is functioning as it should be. If something is wrong, then getting it fixed as soon as possible may be the best thing for everyone.
Alternatively, you could use a high soundproof fence to keep the noise away from your side. This way, everyone is assured of their privacy and comfort.
How Noisy is a Hot Tub?
All hot tubs make noise, it is simply inevitable due to the way they operate.
The degree of noise caused by hot tubs varies between 41 and 67 decibels, approximately.
The amount of noise produced by a hot tub varies, depending on the model of the hot tub and the chosen settings it is being run on. Although there are some models of hot tubs being marketed as completely silent, it is unavoidable that they do make noise of some kind, because of the way hot tubs operate.
In cases where the owner of the hot tub is keen on reducing the noise and vibrations his hot tub is creating, it is recommended to use a rubber insulation mat, that will also protect heat loss and any potential damage caused to the hot tub. Placing a hot tub in an enclosed area, if possible, is also quite helpful, for example, surrounding it by thick bushes or similar. This approach can also provide some much-needed privacy, so it is another potential advantage to the hot tub owner.
The main source of noise in a hot tub is either the motor or the pump. This may also be a good indicator that some of these parts are not working properly, in case they are producing too much noise, and require detailed maintenance.
Bubbling hot tubs can also be a source of irritation to your household or neighbors, so a hot tub owner may need to take into account the proper time of using the hot tub.
Noise from the hot tub has three main reasons:
Mechanical parts that are making noise while operating,
The sound that the pump makes by moving water inside the hot tub and creating bubbles,
Human noises coming from the hot tub, especially if children or young adults are using it.
It is important to be considerate regarding this topic and try to lower the noise as much as possible and use the hot tub during hours when it will not disturb anyone. This will avoid unnecessary tensions and allow the owner to fully enjoy the benefits of this awesome product.
Do hot tubs make a noise when not in use?
Yes, hot tubs make noise regardless if they are being used or not, excluding the noise created by human voices.
The reason for this is that all hot tubs, regardless of the manufacturer, have pumps that keep the water moving around and the jets that power the hot tub. The plain fact is, when mechanical parts are moving, a certain amount of noise cannot be avoided. The noise of the pumps can be even amplified due to vibrations. As mentioned, the only plus side to this is the fact that human noises are excluded, so the noise is somewhat less loud than during the use of a hot tub.
There are exceptions and ways to lower the noise of a hot tub, especially during winter months, by lowering the thermostat, that will cause a more silent way of running the hot tub. The option of completely closing down the hot tub always exists, of course. In these cases, the owner needs to take all precautions that this is done properly and ensure there is no damage during cold weather. Covering the hot tub with an insulation thermal blanket is the best solution for this kind of approach.
In cases where the owner is really keen on reducing the humming sound the hot tub produces, it is possible to loosen up the pump union. This is done with channel locks or large pliers to release the trapped air lock. It can also be done by using a simple hammer and a screwdriver. Caution is advised in this case, not to damage any of the pipes and not to tighten or loosen too much the union by using too much force.
Noises that hot tub produces, even when not used, is something that cannot be avoided and it is wise to prudently pick a place for a hot tub that will not cause any issues with the sound it produces.
What actually makes a hot tub noisy?
Hot tub noise is something that simply cannot be avoided while it is turned on and the main causes are: human factors (noises), mechanical ones and water and bubbles sounds.
The human factor and the noises produced by those who are using the hot tub can be controlled and brought down to a minimum by responsible behavior during the time spent inside the water.
Mechanical noises, however, such as motor noise or sounds from the pump are more difficult to die down, because all working machinery produces certain sounds. Moving the hot tub and mechanical parts away from other people can be an effective resolution, or, as suggested, loosening up the pump union.
Water movement and the production of bubbles inside the water can be less noisy by putting on a hot tub cover while not in use, so the sounds will be less audible outside the hot tub.
In essence, hot tubs are an electrical and mechanical product, so it is inevitable that they do produce a certain amount of noise. Installing the hot tub responsibly and with consideration to those around the owner is the best advice regarding this subject one has to offer. If a hot tub is placed in a remote part of the yard (or the house), the noises produced by it should not be a source of frustration to anyone around.
What type of hot tub noises will I hear?
There are several types of noises a hot tub produces, that include: vibrations, humming sounds, buzzing, squealing sound and clicking noises.
Vibrating sounds are produced commonly by hot tub equipment, situated underneath the spa. Sometimes the source can also be the fact that the hot tub is placed on a wooden deck, that can cause vibrations. Circulation pumps and jet pumps under the spa floor are the usual culprit for vibrations. Checking if the base bolts are tight enough is one option of reducing the vibration. The other one is to place a thick rubber mat under the hot tub, to ease the vibrations.
In cases where the wooden deck is too small, it can act like a drum, amplifying vibrations further. A thick rubber mat can also be the solution, or installing a wooden deck that will exactly fit the hot tub size. This will prevent it from passing on the vibrations any further to adjacent objects.
Humming sounds are directly related to vibration, causing a combined effect due to equipment underneath the hot tub. The solution is also similar – placing a rubber patio square. Humming sounds can also indicate that the motor pump is not starting properly, so it would be wise to check all components and see if they are tightly bolted and strapped.
Buzzing sound could be initiating from the pump or blower motor that is having trouble starting, or even a heater contactor relay. It is usually mixed up with sounds of clicking, vibration and humming. In order to find out what exactly is making this noise, one needs to check the control panel for any error codes first, and if there are no obvious indications, check under the equipment with a flashlight, and listen to identify the cause.
Squealing sound that a hot tub makes is usually an indicator that the pump is nearing the end of its lifespan. The motor bearings also eventually wear out after a number of years, and will begin to shriek, causing a squealing sound. This sound will become louder over time and not fixing it will lead to motor failure eventually. In order to verify that the sound is caused by bad bearings, one needs to close all valves and remove the motor from the wet end. After that, turn on the power for a few seconds and if it still makes the noise, it is certain that repairs are needed.
Clicking sounds in a hot tub may mean that everything is in order and working. However, if the pump won't turn on at high speed and the clicking is still present, or the heater is not heating with a clicking noise, this may be coming from spa relays or contactors. Locating the exact cause needs to be done carefully, with the power turned off, due to a danger shock
There are multiple sounds that hot tubs can produce and some of them may actually prove useful as an early warning that certain repairs are needed.
Can Neighbours complain about hot tubs?
The short answer to this question is yes – neighbors can and are entitled to complain in cases where the hot tub from an adjacent house owner or occupant is causing a disturbance with a loud noise, that is the most frequent case.
Using a hot tub without consideration for nearby people living in the vicinity can cause a certain amount of legal issues to a hot tub owner. This is why it is incredibly important to take their opinions seriously and adapt to their schedule. This way, hot tub owners will ensure they are not causing any inconvenience or stress by enjoying their time of relaxation in the hot tub.
As mentioned, the most common source of complaints is the sounds that hot tub produces, whether it is being used or not. Adapting the time of use and providing a natural barrier so the sound is lowered and does not resonate far from your property is very important.
In most cases, a special permit for owning a hot tub is not required, however, neighborhoods have their own inner regulations, so it may be worthwhile reading upon them, to avoid any future misunderstandings. Placing a hot tub too close to your neighbor's property can also be the cause of various frictions, due to the steam, humming sounds and other sounds that hot tub produces.
One of the most common hot tubs that causes issues among neighbors is a bubbling hot tub, due to the constant water noises it produces. It carries a risk of being classified as a nuisance because of these factors.
The other important part of keeping your hot tub free from any complaints is regular maintenance, so the potentially bad smell, or a too strong smell of chemicals does not cause an issue.
Having a hot tub in your home, outside the house especially, carries certain responsibilities that the owner needs to accept. To avoid such unpleasant situations, it is best for any future owner to keep informed and responsible during the purchase, use, and maintenance of his hot tub.
Does keeping the cover on a hot tub reduce the noise?
Keeping the cover on a hot tub certainly helps reduce the noise it creates to some degree, but it should not be considered as an only solution to the issue.
Today, most covers are made of wood or plastic, with the plastic ones gaining more and more popularity among hot tub users due to their durability. The cover is usually a 2 x 4 frame that encloses the hot tub.
However, these covers are simply not sufficient to reduce the noise to an acceptable level at most times, so additional measures are required. One of the most popular methods is using spray foam to fill any gaps and voids left uncovered. This method provides both insulation and a significant reduction of sound produced by a hot tub. It also reduces the cost of heating the hot tub, so it is energy-efficient. The best way to use spray foam is to avoid parts that may heat up and use it for larger gaps, situated over jet pumps.
Another way of successful sound insulation is using fiberglass panels that are pressed into the boards. They can be easily removed later, by using an appropriate knife, but are very effective in keeping the sound inside.
Finally, to insulate the main source of noise, that is the motor, it is sufficient to create a wide box that covers the motor, leaving space inside, to prevent heating the box.
All these methods are quite effective when used in combination with hot tub covers and will reduce the sound of hot tub to an acceptable number of decibels.