One of the first questions your family members will ask you is whether the hot tubs are worth it and what the actual benefits are. Not everyone has the same intent when buying a hot tub, which is what will eventually determine if it is worth it or not.
Obviously this answer will, unfortunately, depend on different factors. However, in order to help you determine your intent, you should tell me if you are thinking about an outdoor model that stays filled or an indoor unit that you have to fill each time? 
Owning a hot tub is definitely worth it, if you are planning to use it regularly.
Both models mentioned previously have different requirements and requires significantly more or less maintenance, which will eventually impact your decision to buy a hot tub or skip it overall.
Are Hot Tubs Worth It?
So are hot tubs worth it? Hot tubs are more than just technical requirements or maintenance costs that you look for when buying a hot tub. For most, a hot tub has a higher purpose in their every-day lives, something that they are proud of and/or like to show off. Let's check some of the reasons that people usually buy a hot tub for.
What Are The Every-Day Challenges of Owning A Hot Tub?
At the beginning of this article, I mentioned that there are two different types of hot tubs in general that you might want to go after. Those are outdoors that stay filled and indoors that require you to change the water more often.
Those units that stay filled run a lot more but actually stay cleaner. On the other hand, units that you fill to use require much more cleaning. Every time you give it a cleaning, you have to clean out the jets or you get a black sludge that builds up in them. 
How often you clean them really depends on the unit, your water, and what you put in the hot tub. Most often, as I read, folks with either style rarely use them after the first few months to a year.
This one guy's parents have an outdoor unit that has not had anyone sit down in it for 3 years now. Yet, they keep it hot all the time and ready to go. They just drain it a couple of times a year, clean it well, refill, then recover it.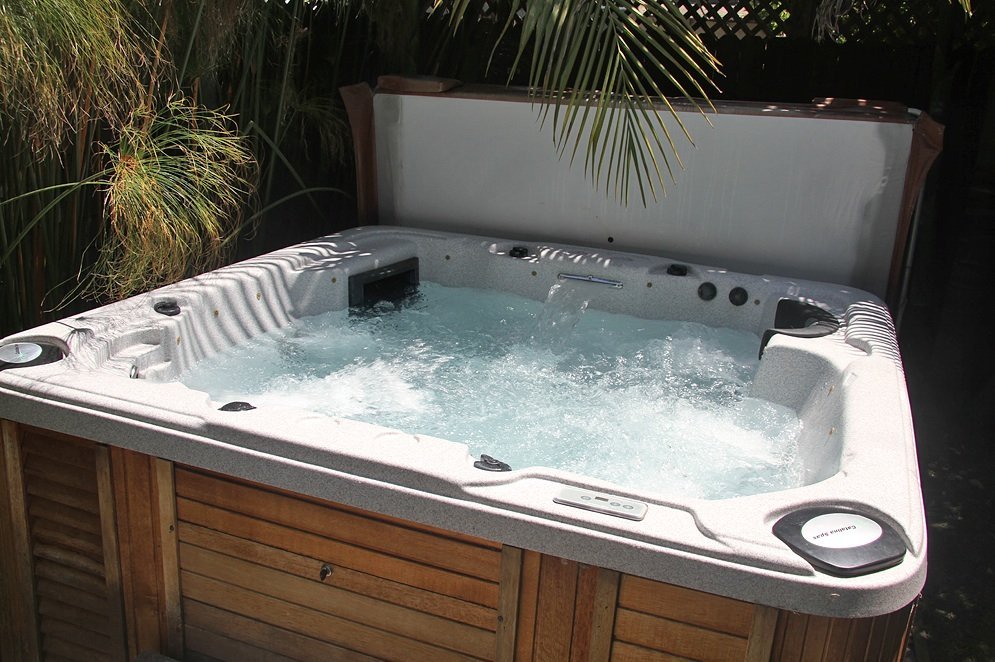 What Are Obvious Reasons To Buy A Hot Tub
I researched what people say about their experience of owning a hot tub. I have come across some interesting facts on why someone would decide to buy one and why are hot tubs worth it.
Many people enjoy relaxing in their hot tub after their sports activities. It helps them treat soreness in their muscles and work their joints
For others, their hot tub is more of a social platform where they hang out with their friends. 
They enjoy having a hot tub running during winter, even when it is snowing outside
People enjoy hot tubs even when the temperature is a bit higher outside by using the cool air from the blowers
They use hot tubs to get them in a romantic mood and LED lights, a few dozens of jets and laydown helps a lot
Kids love it
It is a fabulous center of attention during holidays
Added Expenses That Go Along With A Hot Tub
The quality of hot tubs can vary greatly. In the end, you get what you pay for. Just remember the added expenses that go along with a hot tub:
The first thing to research is permit fees. I haven't found a city yet that does not require a permit for a hot tub installation. Your city's tax assessor will get this for you.
The next thing is installing an electric service. Double-check if your existing panel is capable of handling the extra load from the hot tub? Hot tubs are one of the few appliances that will draw their full rated load (at times).
Higher electric bill. A hot tub can add up quite a few kWh to your final bill.
Location: You need a safe and stable place to put it. Consider if it can be positioned into the location without having to cut down fence posts, trees or remodeling your deck.
Maintenance: Even though they are not as expensive as a pool, you will have to maintain it on your own or simply pay a service company to do it for you.
Time after time, I have seen people spend $6-7k  for their hot tub, use it for a season and then lose interest. In this scenario, your hot tub might cost $3500, another $500 for the cover and accessories, another $500 in materials for the install (Some people install it themselves) and a few grand for the patio to install it on.
Are hot tubs worth the trouble?
A hot tub is really worth it if you plan to use it regularly. It really should be a part of your lifestyle and you may well find that you'd soon find it hard to imagine life without it.
On the other hand, you may find that the cost of maintaining or operating the spa is simply too high or that you don't use it very often. In this case, it becomes a very expensive luxury and you would be better off spending your money by going to a hotel for a spa day every now and then.
There are many advantages to owning a spa and some of them will be more important to some people than others, depending on your particular situation. The most obvious and important benefit of owning a spa is its ability to help you relax and unwind.
In fact, there are few places more relaxing than being cocooned in warm water with your spa's jets gently massaging your muscles, a beautiful view and perhaps a glass of your favorite beverage in your hand.
For many people, a bath in the spa becomes the highlight of the day. After a hard day's work, bathing in the jacuzzi is the ideal way to start the evening and spend quality time away from screens, computers and telephones, which is very beneficial for everyone.
In addition to being generally relaxing, most spas are equipped with hydrotherapy jets that can help massage and relieve sore and aching muscles. If you have just returned from a workout, a hydrotherapy spa is the perfect way to relax and revitalize your tired body.
Likewise, if you suffer from back pain or neck tension, a good spa can really help you relax your muscles and relieve pain. You'll probably find that your spa will become a bit of a magnet in which your family and friends can spend time and relax together.
These days, there are very few situations where people sit together and chat without the distractions of modern technology or the business of modern living. Your spa is the ideal environment to relax and bond with loved ones in a natural and fun way.

Do hot tubs increase home value?
Generally, there are two types of spas: in-ground spas and freestanding spas. Inground or built-in spas, as the name implies, are a true real estate feature. They can come alone or as a package with a pool. Recessed spas are more difficult to remove and transport than freestanding spas. Freestanding spas are like above ground pools. You'll see the above-ground structure surrounded by an enclosure, often on a deck or raised platform.
The value of inground spas
"I've appraised a lot of homes with in-ground spas, but I haven't really seen a significant increase in value," says Jamie Owen, a Cleveland-area appraiser and host of the Home Value Stories podcast on the appraisal. "It's interesting that most of the homes I appraised that had in-ground hot tubs also had in-ground pools. In his experience, the added value of the inground pool included the inground hot tub.
If your home only has an in-ground hot tub, it will add value to your property, but not in the way you might expect. Chances are your appraiser will consider it a landscaping project, taking into account the stonework and yard, and that's where you can calculate a value.
The value of independent spas
"I've never seen market data that suggests that stand-alone spas add much if any, value," Owen says. Freestanding spas are considered personal property and are not included in the overall value of the property.
But a freestanding spa can also be built into the ground. In this case, the permanent structure surrounding it would make it a built-in hot tub, and its value would be the same as a built-in hot tub.
That is, if you want to get real value out of the freestanding (above ground) spa, you will probably get more selling it separately to a buyer than selling it at a higher price.
A quick look at the Facebook market shows that large, well-maintained spas can sell for between $1,000 and $3,500, while smaller spas often sell for around $700.
You also need to estimate the work involved in making the sale, coordinating with online buyers, negotiating the price of your spa, and arranging for removal. And, as we'll see later, a spa in good condition can be considered an added bonus to buyers, which may make it worth including in the sale of your home.
If your hot tub isn't in working order
Inground and freestanding hot tubs don't increase property value, but they do decrease value if they don't work. The buyer must have the hot tub transported or repaired, which costs money, and this work reduces the original sales price.
From a valuation standpoint, a built-in hot tub that doesn't work negatively affects the value of a home because it is part of the property. However, this is not necessarily the case with a freestanding hot tub, unless it is a horror that detracts from the overall appeal of the home.
Dealers, Local Manufacturer, Warranty
All jets are not alike, all warranties, all dealers, all controls are not alike, all manufacturers. A true comparison is needed and you won't get that by simply looking at a spec sheet that can be very deceiving. 
This is another thing that will determine if your hot tub is a good investment or not. Hot tubs, regardless of the brand, might need a lot of repairs from time to time, especially if you are buying a used one. So make sure there are some local dealers that can service your hot tub.
If you are buying a new one, make sure you pay the extra for the service plan or warranty. It could be the little things that need fixing/replacing over time that make your investment look bad or unworthy. 
When it comes to local manufactures, a huge advantage is that you might be able to try out the tub before you buy one.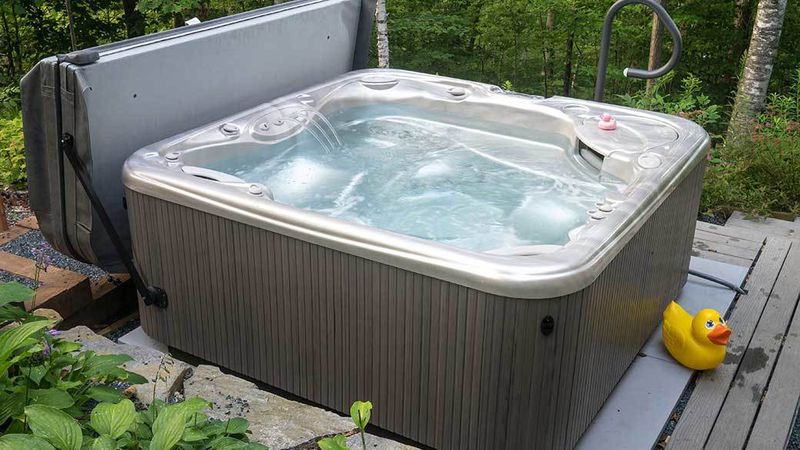 Are You Buying A New Or Used One
The one thing that people say from their experience is to stay away from used ones. Most of the time used hot tubs cost you more in the end, especially because you don't have real insight into how much the tub was used up until now. 
Are Used Hot Tubs Worth It?
Most often, people needed to purchase new fittings, replumb half of it, and purchase a new spa pack for it. However, if your budget doesn't allow for a new hot tub purchase, maybe it would be wise to check out the cost of components and serviceability before you give it a go.
Old hot tubs can either be a maintenance nightmare or a hobby depending on whether you like troubleshooting/fixing things. 
The combination of water, chemistry, electricity, heat, and weather means everything. Maintaining proper water chemistry is probably the best thing you can do for your hot tub in order to keep one running as long as possible.
Best Case Scenario
This is probably the best scenario that I ran across. A person paid $800 for a used hot tub. She used it almost every day for 6 straight years and had quite a few parties in it as well. Additionally, she only spent another $800 on parts and supplies over the course of those 6 years.
Conclusion
There is a couple of real insight I got while writing this. The first one is that the hot tub maintenance doesn't need to be a nightmare. As long as you are regular with your chemicals and cleaning the hot tub, you don't really have to worry too much about other things. Most people don't. 
Secondly, you can save a ton of money if you are able to take care of the wiring yourself or maintaining the hot tub. 
And lastly, if you are considering purchasing a used hot tub, take your time and try to find some of these sellers that actually made a terrible, impulsive decision that turned into the regret pretty fast, before they had time to use it.
So, are hot tubs worth it? I hope this article helped you decide.