We usually talk about expensive electric hot tub options that many of us were not aware of wood fired hot tub options. In this article, I am answering common questions about these beautiful, all-natural and affordable wood burning hot tubs.
A short answer to how does wood burning hot tub work would be the following:
The warmth you experience inside the wood burning hot tub comes with fire so we can say that in most cases a wood fired hot tub heater is necessary unless you use an electric one. Gravity is a major key since it makes the warm water flow upwards while cold one gets down. This cyclic water movement is constant when using a wood fired hot tub. 

Obviously, there is more to it than just the circulation of warm and cold water and picking the right stove. Let's dive a bit deeper into the topic and answer some interesting questions.
How To Use A Wood Fired Hot Tub
A wood fired hot tub reminds of the days before electricity or access to natural gas. Many hot tub purists like the natural experience of soaking in a hot tub that is heated by burning wood. If you like it, it is still very possible to purchase this type of spa from several manufacturers.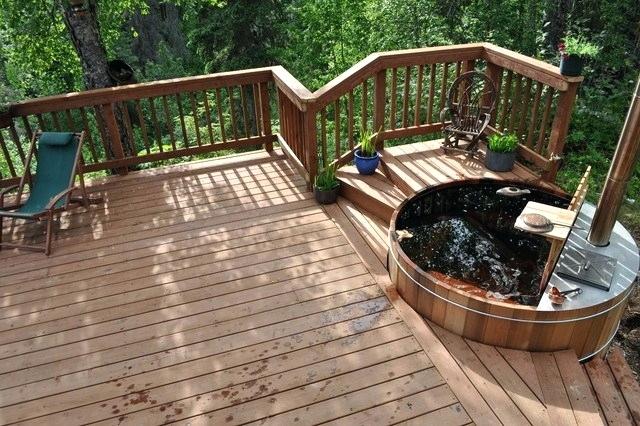 Using a wood fired spa requires a little more work than using electric or gas heaters, but the basic principles are the same. I have to say that it is a healthy replacement of the hot tubs that we have used to seeing around, and you will see why.
The water from the tub tank flows through the heater, then through a filter system and back into the spa.
The main difference (from a hot water point of view) is that a wood burning hot tub boiler cannot keep the water in your spa at a certain temperature as the other heating options can. In addition, the heat tends to stratify, meaning that hotter water rises while the cooler water sinks. To prevent this, use a paddle or similar device to stir the water occasionally while soaking.
The basic operation of a wood fired hot tub focuses on the heater and maintains the correct water level to cool the heater and the airflow. If you light a fire in the heater, it is best to use clean fire paper for the initial ignition, followed by a dry light covered with crossed stems. The rule of thumb is simple: the more wood you use, the faster the water in your hot tub reaches hot temperatures (about 104F). The more wood you add, the longer the water stays at the right temperature. If the water gets too hot, moisten the fire and reduce the airflow into the stove, which will cool it down pretty quickly.
Make sure that the outside of the wood heater is sufficiently cooled. This often means water cooling, which needs to be monitored to maintain it. Some stoves are made of metal (e.g. aluminum) which melts if you do not monitor the cooling system.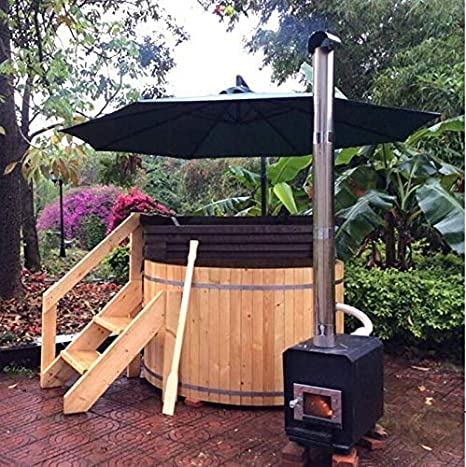 Smoke is the other potential problem with a woodburning spa radiator. The use of high heat and low smoke fuel sources helps to reduce smoke pollution, as does ensure that the wood is very dry and not green. Keep the stove chimney (if present) clean (Amazon link) and free of obstructions. This is very important!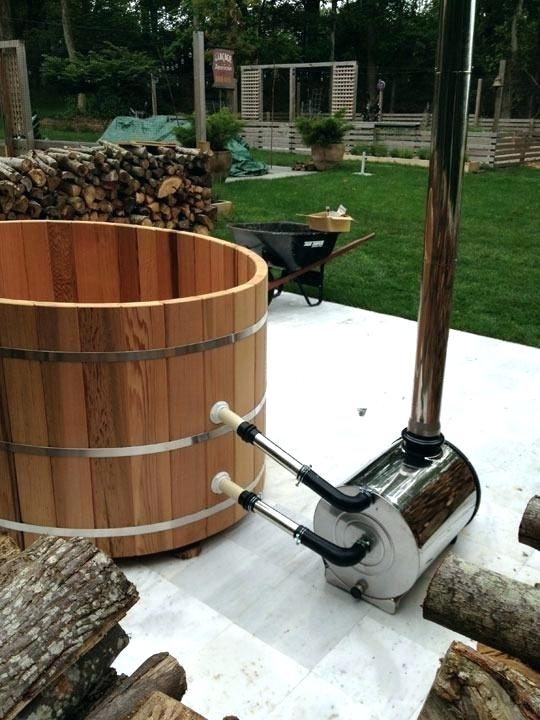 Are Wood Fired Hot Tubs Any Good
First of all, a wood burning hot tub does not need electricity. You only burn wood to heat it, and a wood fired hot tub has many advantages. The most important of all of them is that there is a lot of money being saved. Besides, you have the wonderful smell of a fire, combined with the relaxation in a beautiful hot bath! You relax and save money!
The chemicals that go through our hot tubs are terrible. Not only is there always more to put in when you use it, but there's always a number on your hair and skin, unlike normal water which is exactly what a wooden spa uses. Simply normal water is all it takes.
Certainly, there is some more maintenance required, but just emptying and refilling, with some scrubbing and occasional soaping in between is what you do most of the time.
There was a case one guy had on a forum where after a while, one of the push buttons on his family's spa controls broke. Apparently some moisture came. They knew that a new part to fix the problem cost over $500.
Today they still haven't replaced it because half the nozzles are working, so is the lighting, and the temperature control is good too. With a wooden hot tub we wouldn't have to worry about slightly defective or damaged electrical parts, nor would we have to worry about the expensive replacement. You just heat it up with wood and clean it when you are done. Fast, easy and without expensive parts!
The real advantages of a wooden hot tub are its simplicity. Most people get a hot tub to relax and unwind, and you should certainly be able to! A wooden hot tub allows you to do just that!
How To Build A Homemade Wood Burning Hot Tub With 6 Elements
For someone who has experience in building things around the house, it can be relatively easy to put up a simple homemade fire heated hot tub. You will need 6 basic elements that can be purchased in Home Depo. So let's start.
Modern 169 Gallon Stock Tank
Modern Push-To-Connect Fittings
Modern Through Wall Pipe Fitting
Modern Copper Tubing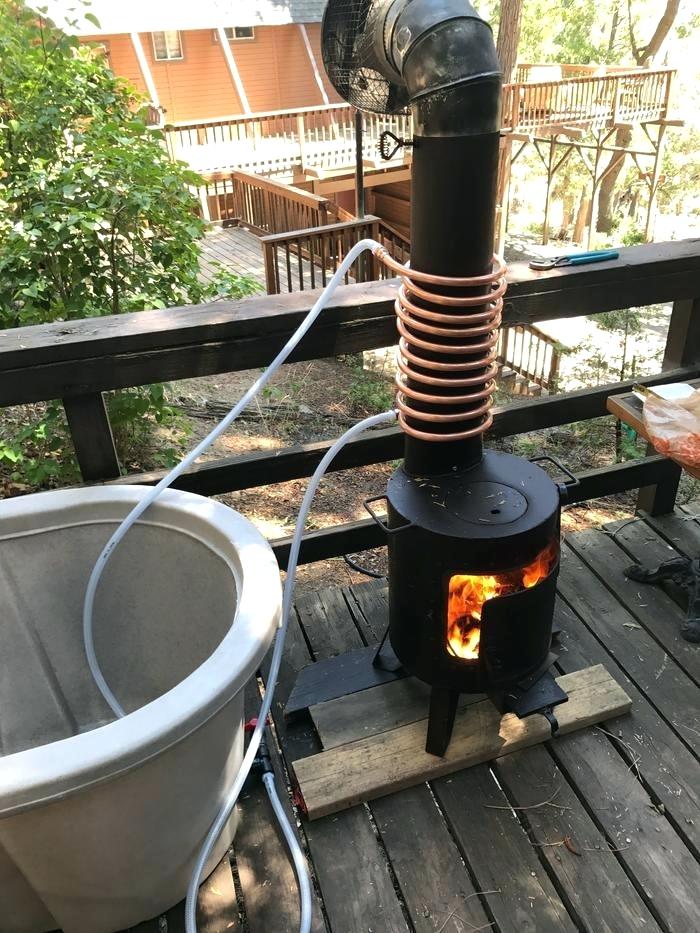 Now here are the proper steps to take in order to do this:
Place the stock tank
I placed the 169 gallon stock tank on the ground where I wanted my wood fired hot tub to be and then traced the perimeter of the tank in the dirt. After that, I dug about 8 inches into the ground.
(If you would like to get a DIY-ready wood hot tub, please check the product below)
Pour the foundation
I don't want the filled tank to sink into the ground so used Quikrete Fast Setting mix to make a pair of quick and easy foundation slabs.
Make the wood burning hot tub coil
I cut a 20-foot long piece of ½" copper tubing and bent it in a coil around a 5-gallon bucket. I wanted the coil to be about 18 inches tall from top to bottom.
Make supports for the wood burning hot tub coil
I cut some 1" by 1/4" steel bars to make supports for the coil. I drilled holes in the bars so that I could bolt them together around the copper tubing.
Drill holes in the wood fired stock tank heater 
I used a hole saw to drill 1-3/8" diameter holes 18 inches apart in the stock tank.
Add the fittings
I threaded the tank fittings through the holes and sealed them with silicone caulk. I screwed the push-to-connect fittings into the through-wall fittings.
Plug in the copper
The ends of the heating coil were a bit bent so I trimmed them before inserting them into the fittings.
Secure the wood burning hot tub coil 
I pounded the steel bars into the ground and added a second set to make sure the coil was sure.
Build the coil
I used ¾" redwood to make a lid that fits over the tank.
Test
It was 63 degrees outside and the water started at 56 degrees. It took about 2 big armfuls of firewood and 2 hours to heat the water to 110 degrees.
Do Wood Fired Hot Tubs Bubble
Originally, they don't. However, there is an equipment that you can get for about $90 that will have a motorized air pump. I found this product on amazon and will leave a link in case you decide to check out. 
MASSAGING BUBBLES: This mat instantly creates a soothing bath spa. All you need to do is to place the mat in the tub, sit back and relax! It is designed to lay on your bathtub floor. It includes a connected air hose that delivers massaging bubbles
Sale
SereneLife Electric Bathtub Bubble Massage Mat - Waterproof Tub Massaging Spa, Full Body Bubbling Bath Thermal Massager Machine w/Heat with Motorized Air Pump and Aroma Clip for Oil
MASSAGING BUBBLES: The SereneLife Bath Massage Mat instantly creates a soothing bath spa. Just place the mat in the tub, sit back and relax! Designed to lay on your bathtub floor. Features a connected air hose that delivers massaging bubbles
MOTORIZED AIR PUMP: Equipped w/ a motorized air pump responsible for producing millions of air bubbles every second. It is to be placed outside your bathtub with distance. Features automatic safety power-off function. Includes 8.2 ft air hose
BUILT-IN HEATER: Features a built-in heater that creates a soothing and warming experience. Works when the appliance is switched on and is not designed to heat up a cold bath but maintaining the water temperature w/ warm air created by the main unit
SUCTION CUPS: Mat is soft, fully submersible and 100% waterproof. It is also mold-resistant, cushioned and has a padded surface. Measures 47" x 14.2" offering full body support and comfort. Equipped w/ suction cups under the mat for non-slip comfort
REMOTE CONTROL: Allows you to adjust bubble intensity using the included remote for a hassle-free operation. Package includes a power cable and aroma clip to incorporate essential oils into your bubble bath for a more relaxing and soothing experience
MOTORIZED AIR PUMP: It comes equipped with a motorized air pump that's responsible for producing millions of air bubbles every second. Which seems like a lot. It is intended to be placed outside your bathtub with distance. It includes automatic safety power-off function and 8.2 ft air hose
Sale
BUILT-IN HEATER: This one is really interesting as it includes a built-in heater that creates a soothing and warming experience. It works well when the appliance is switched on. It is important to know that it isn't used to heat up a cold bath but rather  to maintain the water temperature with warm air created by the main unit
SUCTION CUPS: Mat is extremely soft, fully submersible, and 100% waterproof. Many people will appreciate the next thing. It is also mold-resistant, cushioned, and has a padded surface. It goes 47" x 14.2" in size offering full-body support and comfort. It is equipped with suction cups under the mat for non-slip comfort
REMOTE CONTROL: It has an option of adjusting the bubble intensity using the included remote for easy operation. Power cable and aroma clip are both included in the package to incorporate essential oils into your bubble bath for a more relaxing and soothing experience
This could be a great addition to your homemade wood fired hot tub that will upgrade your regular hot tub into a somewhere luxurious version of it.

How Often Do You Need To Change Hot Tub Water
It will really depend on how often you use it and how many people you are sharing it with. In general, if we are talking about domestic use it is recommended to empty the water every 2-3 uses. However, if it is used by multiple people then it is best to change it daily. In case you would want to leave the water in for longer then it is recommended fitting a filtration system or using a sanitizing treatment.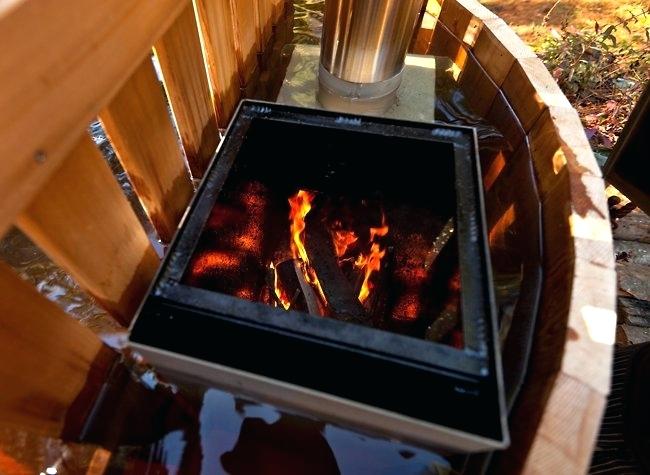 How Much Are Wooden Hot Tubs
I analyzed Royal Tubs company that have wood fired hot tubs starting from $1900 for a model called Ofuro Hot Tubs, all the way up to $3800 for a model Fiberglass Deluxe Round Tubs that's on sale right now. 
All of the oval wooden hot tubs come fully equipped with: 
Matching spruce or larch steps 
External heater and chimney components 
A practical drain 
The hot tub itself, which features two arched seats,  and stainless steel hoops
Find out more on their website since you can get several accessories that go nicely with these wood fired hot tubs and that are actually useful, such as:
Mini bar
Chimney Heat Guard
Stirring Paddle 
Air Bubble System
LED lights
Fiberglass lid
Internal heaters and more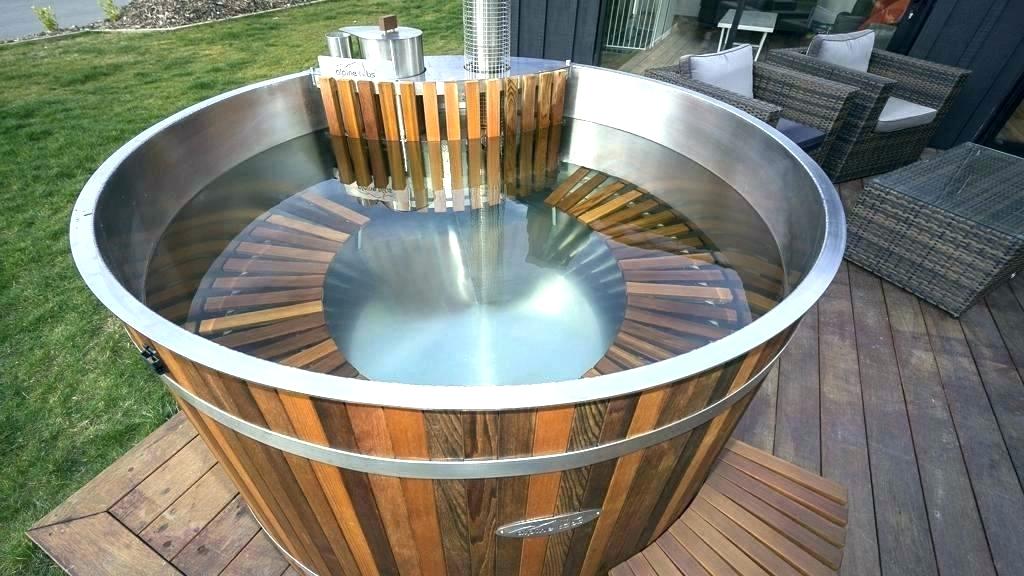 Wooden hot tubs with an electric heater
Wooden hot tubs are some of the most amazing, prestigious tubs you will come across when looking to buy one. They are well insulated, comfortable, and come in different sizes, depending on the user's preference. 
Wooden hot tubs are not exclusively the same as wood fired hot tubs. Some wooden hot tubs have purely electric heaters, while others have gas-fired heaters. You can also find wooden hot tubs that are wood fired.
Many wooden hot tubs with electric heaters have the wood fired hot tub heaters as an accessory. They do not take too much space, so using the electric heater will save you some cents. However, you can use both the wood fired stove and electric heater to speed up the heating process.
Wood fired hot tub water treatment
Like normal hot tubs that use electric heaters, wood fired hot tubs also need water treatment. They are essentially way easier to maintain than their counterparts since they use natural water, which means you do not have to battle with tens of chemicals. To treat them, you will need non-chlorine shock treatment.
This shock oxidizer helps get rid of bacteria naturally, thus preventing cloudy water. It adds oxygen treatment instead of chlorine and bromine, which are not good for the already organic wood. 
Some advisers suggest that one can use chlorine for a public wood fired hot tub, but this will depend on the interior lining material used in the tub. However, the overuse of chemicals will still damage the wooden surface.
Wooden hot tub chemicals
There will always be a debate on the best chemicals to use when balancing your tub's pH. However, with a wooden hot tub, your options are lesser since some chemicals corrode the wood, making them not last as long as they would have otherwise.
If you insist on using chemicals for your wooden hot tub, then bromine is your best sanitizing option. It is less tough on wood compared to chlorine. Alternatively, you can choose to have a chemical-free hot tub by using the water naturally. However, you will need to drain and wash the tub after using it twice or thrice to keep it in a good sanitary condition.
Wood fired hot tub vs. electric hot tub
There are so many reasons why one can say they prefer wood fired hot tubs over electric hot tubs. The latter is easier to maintain, and you do not have to understand how to balance multiple chemicals to keep it running. 
It is also more affordable, and wood fuel is cheaper than electricity bills. Cleaning and maintaining do not need a lot of work, and you will always enjoy the natural smell of fire while relaxing in your wood fired hot tub.
On the other hand, electricity hot tubs are sometimes cumbersome because they need so much maintenance work. You need to know how to take care of jets, filters, the heater, etc. However, you will not need to wash it since the chemical shock process easily eliminates water contamination.
Both these tubs have their advantages and disadvantages. Therefore, you will need to weigh your options and see what you are willing to deal with for an ideal experience.
Best submersible wood burning stove
Wood burning stoves can be either external or internal (submersible). Submersible wood-burning stoves are immersed in water, where they directly heat it to raise the temperatures to the desired degrees. 
They are faster compared to their counterparts since they do not lose heat to the external environment. To get the best in the market, look for one made of high-grade marine aluminum. These options are non-corrosive when exposed to water and have cedar- barrier insulators on top to protect users in the tub.
How long to heat a wood burning hot tub?
Heating a wood burning hot tub takes fewer hours compared to heating a regular hot tub with an electric heater. You will need around one and a half to four hours on average for the former. However, this will depend on other environmental factors such as the wind's strength, the temperature outside, and air pressure.
Hot tubs with both wood stoves and electric heaters use half the time since the work is shared between two heating instruments. To speed up the process with wood stoves alone, start with medium-sized firewood for the fire to catch up fast, and then add bigger logs to sustain the heat for longer.
The wooden hot tub filtration system
Although wooden hot tubs require less maintenance than their counterparts, you will still need a filtration system to keep the water pure. The ideal option is a sand filter unit. It is quite popular with many wooden hot tub users since it requires next to no maintenance. You will work with one effectively for three to five years.
The sand filter uses its sand like a sponge, capturing all impurities from getting into the tub's water. It has stainless steel connectors to attach it to the wooden tub. One connection holds the tub at the top and the other at the bottom for stability. When you fill the tub through the filter, it catches any impurities and releases pure natural water. The smallest filter is about four cubic meters in size.
Wood fired hot tub pros and cons
Wood fired hot tubs are great accessories for your home. They offer you a natural way to relax, and you do not have to worry about chemical imbalances as long as you drain the water after using the tub twice or thrice. 
Using wood to fuel your tub is much cheaper than electricity, making wood fired hot tubs a budget-friendly investment. They range in sizes, and so you can enjoy an afternoon with your family in the comfort of your tub.
However, if you are not one to have too much time on your hands, you might find draining and washing a tub weekly a bit cumbersome. These tubs do not come in compact states as traditional tubs; you, therefore, have to think about assembling one after purchase. Some are less efficient with poor insulation, plus they might not come with amazing accessories like LED lights, wireless controls, and waterfalls.
Related Questions
Efficiency And Cost Of Wood Fire Heating Compared To Electric Heater
Heating the outdoor bathtub with wood is the traditional way, which requires no additional supply, only wood. We have three different types of wood heaters:
Internal
External
Integrated. 
As you can see, they are differently placed and connected, although the heating time is very similar. Of course, smaller tubs warm up faster, especially if you choose a stronger heater, while larger tubs need a bigger heater and a longer time to warm up. 

The efficiency of wood heating also depends on wood density. Therefore, hardwood is better than softwood because it has a density of 50% higher than softwood. 
It is important that no matter which wood you use for your wood stove, the wood must be dried. Wood that has not been dried wastes a lot of energy because it has to remove moisture from the logs when it burns.
The efficiency and cost of electric heating do not have so much inaccuracy because the energy used can be calculated accurately. Electric heating consumes 6 kW per hour, so you only need to know how many hours per day you have used it and the price of kWh in your country. 
Let's say that the stove was on for 3 hours, so you used 18 kWh that day, multiply that by the cost of electricity per kWh and you have your price per day. 
How much does a wood stove cost in comparison? This is a tricky aspect, as it depends very much on the land, as well as the access to wood and its price. In addition, the amount of burnt wood cannot be measured accurately depending on the species, and it is also a little difficult to keep the temperature the same for a long time or not to overheat the water. It is therefore very likely that at least initially you will need more wood than necessary, while the electric radiator has a thermostat that allows you to set the temperature.
Conclusion
I feel like I personally know more now then I knew before writing this article. In my personal opinion, just by going off these notes, it does seem like something that's better for your health I guess since there is no need for heavy chemicals. Additionally, it has way fewer components and electrical parts which makes maintenance a breeze.
Going further down, there are options to buy or to make one yourself. Latter being a way cheaper option and works just fine. The only thing is that you have to control the temperature and make sure you don't cook yourself in the tub. But you get used to it pretty quickly. 
I also noticed that there is quite a community behind these wood fired hot tubs, which means that you can seek and find a piece of advice pretty quickly. 
In the end, I think these hot tubs will last longer and are fully recyclable since it is made out of wood. 
Recommended Articles: