I am always on the lookout for the best hot tub accessories (deals) that I can find. Those should be super helpful and affordable at the same time.
Here is one specific use case, where if you haven't already realized what hot tub accessories are all about, then you will soon understand. Imagine if you spend 15 to 30 minutes in a hot tub, and 5 of them you spend reaching for things and leaving them back on a table nearby, or removing scum and watching for your glasses, then you just wasted perfect time that could have been spent relaxing.
This is where you could use a nice holder for example to put your things on or maybe a floating cup holder, floating cards etc.
Or if you prefer to get into your hot tub during the night to watch the stars, wouldn't it be nice to add some glow to your hot tub that would immensely affect your love life in a positive way? 
I went out and found 21 useful hot tub accessories that really make sense and would be a great addition to your hot tub accessory list. I will let you on a secret; we will have bonus hot tub accessories for you to check as well, so let's start.
1. Hot Tub Cup Holder – Hot Tub Accessories
It's not just about making your drinks and snacks look cool while you relax in your hot tub. It is also about being practical and getting the most out of your drink while in the hot tub with this drink holder.
It has 2 cup holders and a tray to rest your personal belonging while you relax such as your phone, air pods, etc. The tray is mounted on the top of the sidewall and a good thing is that the cup holders can be separated from the tray. Let me know how long does the ice stays in the glass while you are sipping your cool drink in the tub.
You can find this item on Amazon, in case you want to purchase.
2.Turtle Oil Absorbing Sponge – Hot Tub Accessories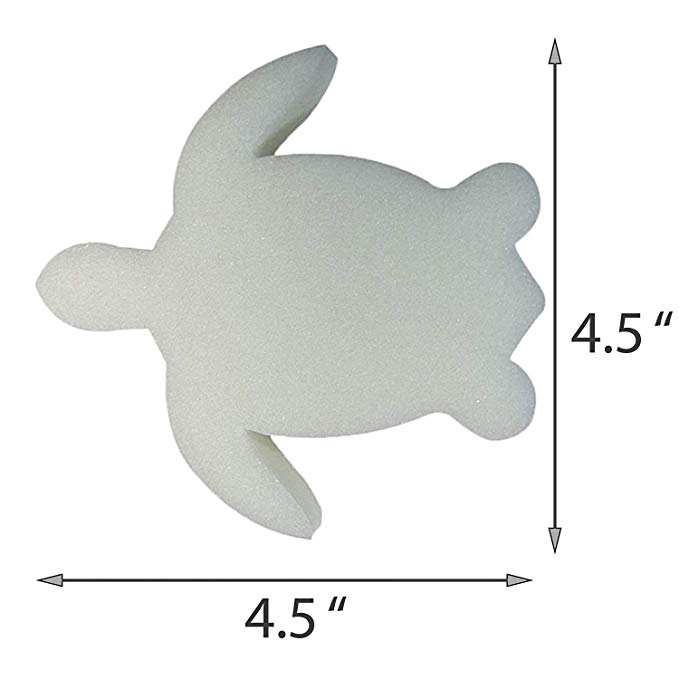 When it comes to maintenance of your hot tub, you need all the help you can get. Especially if it doesn't cost a lot. I found that Oil Absorbing Sponge makes hot tub maintenance so much easier and honestly I would feel guilty for not having it and still letting my wife clean the tub.
So what the oil-absorbing sponge does is that it absorbs inanimate scum, suntan lotion, body oils, make-up/cosmetics, pollen, etc. without absorbing any water. How much help can it be?
In addition, it improves filtration and helps to eliminate prevent the creation of a scum line while prolonging the life of the filters. There is nothing fancy about this one really except that it does an amazing job for almost $11. The cheapest help ever.
You can check this item on Amazon.
How To Use Oil Absorbing Sponge?
It's really simple and there is only one thing you have to do. Just put two sponges in a water-filled pool or bathtub. Done.
There is no harm in leaving it in all the time. It usually tends to float over the filter so it doesn't bother us. Then when you feel it is getting saturated, just squeeze out, clean and reuse it a dozen more times.
And the best of all, it keeps the oil inside of the sponge. Once the oil is absorbed, it will not expand in your pool or tub.
3. Hot Tub Speakers (#1 Selling Hot Tub Accessory)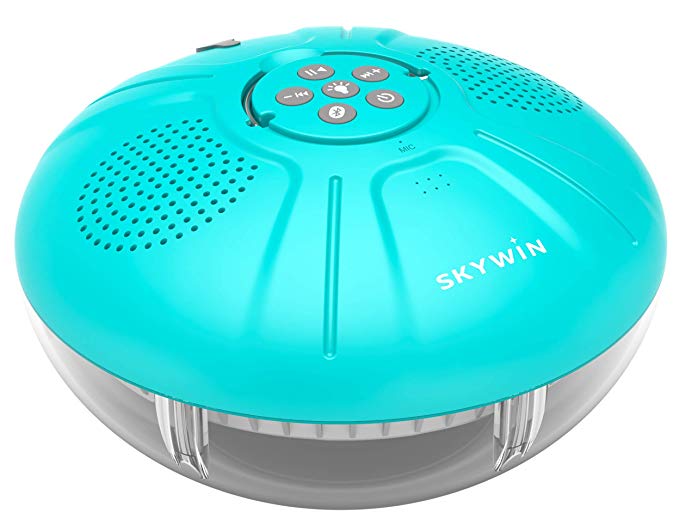 Alright, so there is another thing that will enhance your enjoyment in the hot tub. The wireless waterproof speaker by SKYWIN is really the perfect answer to high-quality audio for both indoors and out. 
You can hang it from just about anywhere with its uniquely designed built-in hanger to get the best out of its light show.
Or just let it float since the speaker is fully waterproof and can be submerged in three feet of water without any issues. Now, this is awesome and I usually don't look any further once I find something that has it all. Why waste your time.

What else I like about this one is that you can reuse it over and over, making it the best choice for trips to the beaches, baths, boats and pool parties. The loud stereo sound can be heard for miles and wireless connectivity makes it super easy to pair up and select your favorite tune. Whatever you are into these days, you can turn it on within 20 meters (7 feet).
Connect to your smartphone
It wouldn't be complete without the ability to connect it with ease to your smartphone or tablet. The speaker can also serve as a handsfree speakerphone making it easy to talk with people while you are busy relaxing in the hot tub or sunbathing by the pool.
Shockproof, Dustproof And Damage Resistant
So we had that it is waterproof, can be paired with your phone, great audio. But how much resistance can it provide? 
Well, superb. The way it is designed with the shape and material makes the wireless speaker highly durable as well as shockproof, dustproof and damage resistant. 
You can find this product on Amazon.
4. Portable Outdoor Towel Tree – Hot Tub Accessories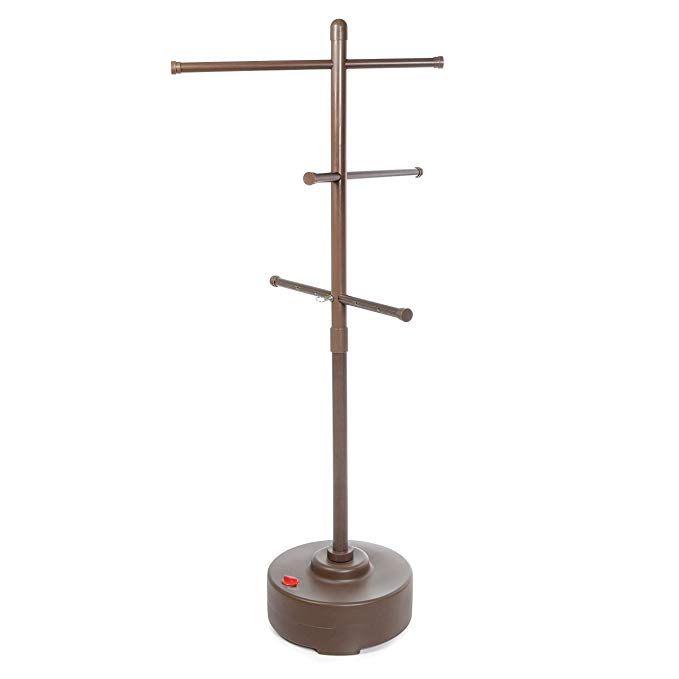 STABLE BASE: The hollow bottom of the towel tree is cleverly designed to be filled with water. What that does is it makes it easy to be carried and also stable when filled with water. That means it won't easily tip over in the wind or rain. It's generally proven to be safe and stable. Simply helpful!
ADJUSTABLE BARS: Sometimes you want to spread your towel over the arm so you can slide it more to one side. The three arms can easily be configured to suit your unique needs. One thing to know while adjusting the bars to your preferred length is to properly divide the towel weight in order to prevent tipping and ensuring all your towels dry properly.
PORTABLE: Since this rack will probably be used seasonally, the good thing is that once you are done using it, you can easily take it apart and move it inside for convenient storage. In case you are traveling, you can easily break down the rack and bring it along wherever you go. I really love it since it is really convenient and it is worth every penny.
MADE FROM FURNITURE GRADE PLASTIC: Regardless of where you live, you will probably experience different weather and get plenty of sun and rain during the year. Since your towel rack is going to be outside, you need it to be built from a durable material.
The creators of the rack thought of that and they created it from the same plastic that is used to make the rest of your outdoor furniture. You can forget about rust, crack, or discolor.
Once again, worth every penny and at this point, there is no reason not to get one for yourself. With my wife and two kids, we would need 4 towels and this rack would certainly hold it without any issues. And I am glad to see it on the rack instead of on the patio floor.
CONVENIENT SIZE: Most of the people who own hot tubs already have enough space to not really be looking at the size of the rack. Still, this outdoor towel tree measures 65-inches high x 25-inches wide x 8.5-inches deep.
I guess they have thought about that as well. As I said before, a huge plus for me is simply seeing the organized hot tub area since the clothing and towels are the ones that contribute the most to this issue.
You can find this product on Amazon.
5. Spa Tender Hot Tub Ice Bucket – Hot Tub Accessories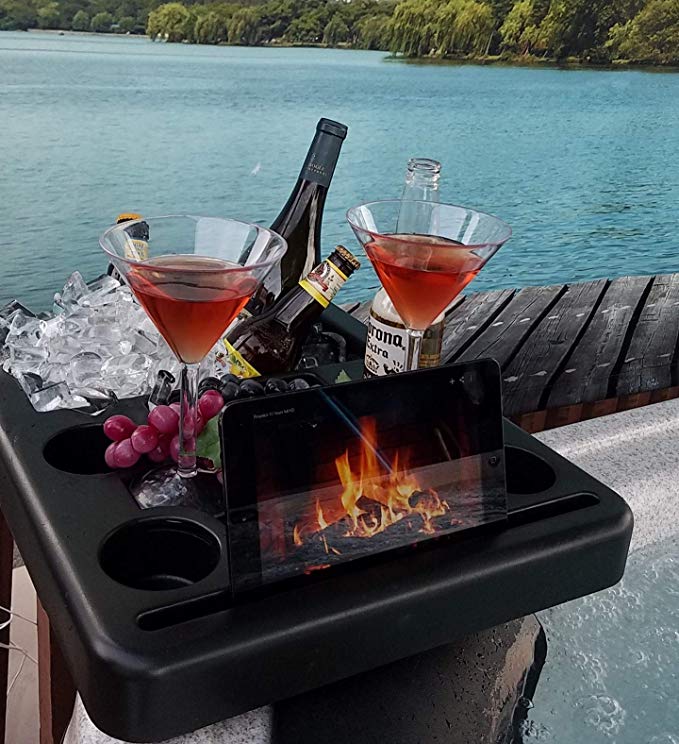 I will suggest a couple of different holders in this article but I guess what I am looking for is to get the most out of the one I find. With this one, I like that it is multi-functional since it has pretty much everything I need.
I like hot and cold beverages almost equally and I like having them together on my hot tub tray, like one after the other, immediately, starting with the hot one.
The Spa Tender is the first hot tub caddy that functions as a towel holder, an ice bucket, a cup holder, a tablet stand, a phone holder and as a glass and mug holder. I honestly don't know what else I could use. 
Another important feature of this hot tub accessory is that it is really easy to mount and remove quickly for storage and cleaning. In addition, just like the rack we talked about, The Spa Tender is made from durable UV resistant polyethylene material that will last for many years or as long as you decide to keep your hot tub.
You can get this item on Amazon.
6. Underwater Submersible LED Lights – Hot Tub Accessories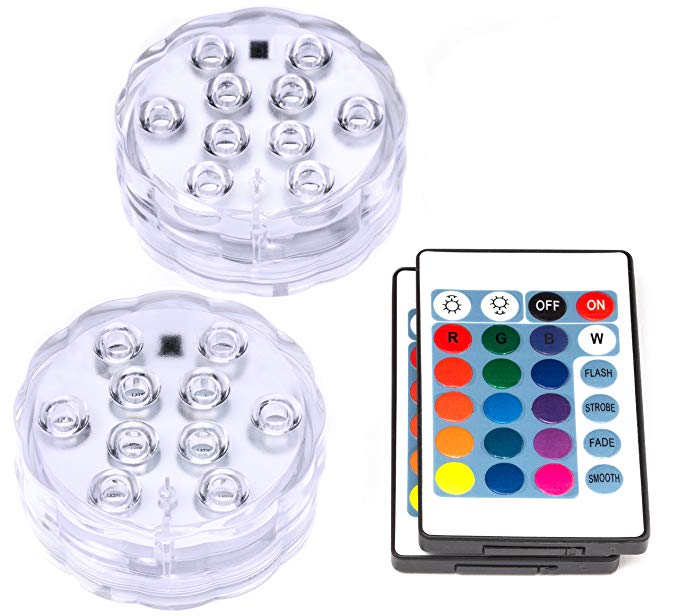 I found this hot tub accessory to be an amazing replacement for the expensive stock hot tub ambient lights. It is super affordable and if you are not getting a new hot tub for you and your family or you simply can't afford to add the ambient lighting, then there is no reason not to buy these. Here are some details about it:
CORDLESS RGB POOL LIGHTS: Set of two (2) wireless Starfish submersible LED lights. They are excellent for a pool, hot tub, pond, shower, bathtub, water fountain, spa, vase, hookah or indoor decoration.
You can choose from 16 color preferences and 4 dynamic color-changing modes which is more than enough considering that each person usually has a single color they prefer. Regardless of the color you pick, it will definitely add warmth to your home and patio area
IP68 WATERPROOF MATERIAL: So all the lights appear to be made of IP68 waterproof materials and have a rubber O ring for extra protection, making these 10 bright LED bulbs 100% submersible and water-resistant.
MORE CONVENIENT: It is perfectly OK to assume that you could control this 2-pack of underwater lights using a remote while hanging them on a wall, floor or ceiling. Portable and packs easily. Check!
EASILY REUSABLE: No cables, only batteries. Once you insert the batteries (3 AAA), tightly secure, and you can forget about it for some time! You can repeat this when the batteries run out. 
MULTI FUNCTIONAL: I think this one would be an interesting gift for someone who owns a hot tub. Because it is really the perfect accessory for any occasion: party toys, romantic evenings, holidays and pretty much any time you need to relax.
You can add a colorful accent to your floral bouquet arrangement, flower vase, centerpieces, plants, glass bowl, fish tank, illuminating a hookah, boats and docks, waterfall, or simply light up your backyard landscape.
You can find this item on Amazon.
7. Inflatable Pool Drink Holders – Hot Tub Accessories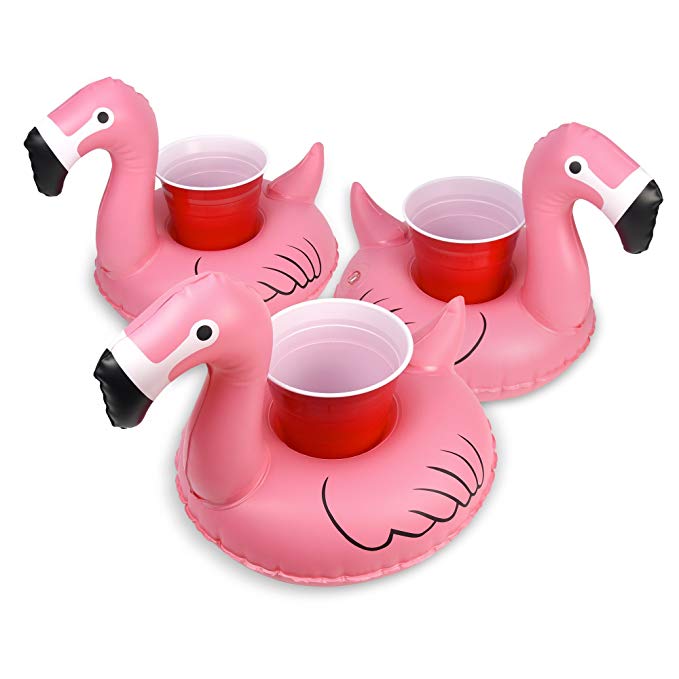 There is this GoFloats US company that manufactures these inflatable cup holders. They seem to be working great and keep the drink in an upward position regardless if it is a can of Coke or a water bottle. This is especially interesting for kids who can choose among different shapes and colors. It won't tip over which makes it valid for this list and obviously highly recommend. Be aware of counterfeit floats being sold by other companies on Amazon.
You can find this item on Amazon.
8. Essential Hot Tubs HS2-BLK Black Handi Step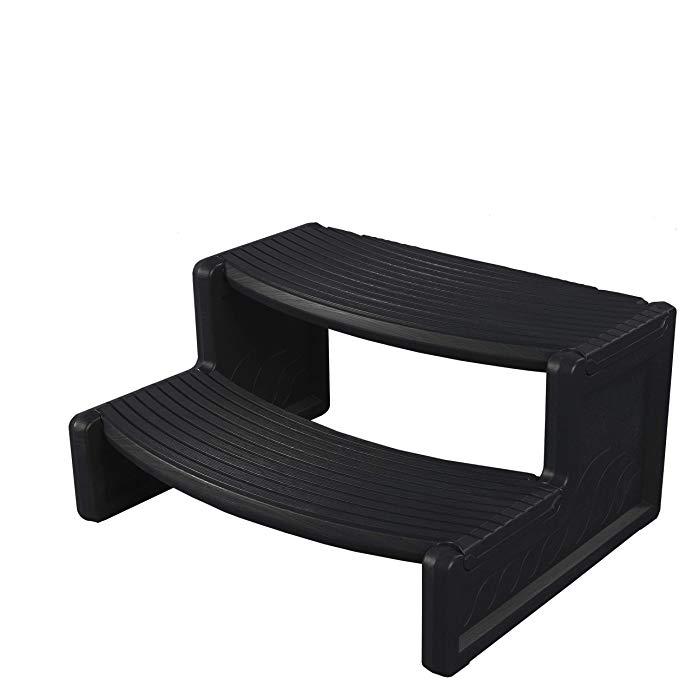 One thing you definitely need around your hot tub is the steps to get it, especially if you are having any kids coming over to a hot tub party. Surprisingly many people don't have it and it would make a nice gift for the holidays. It is also beneficial for elders who now can now save an additional 6 inches when lifting their knees. These are really light and easy to clean.
You can find this item on Amazon.
9. Kenley Hot Tub Booster Seat – Submersible Weighted Jacuzzi Spa Pillow – Washable Cushion Cover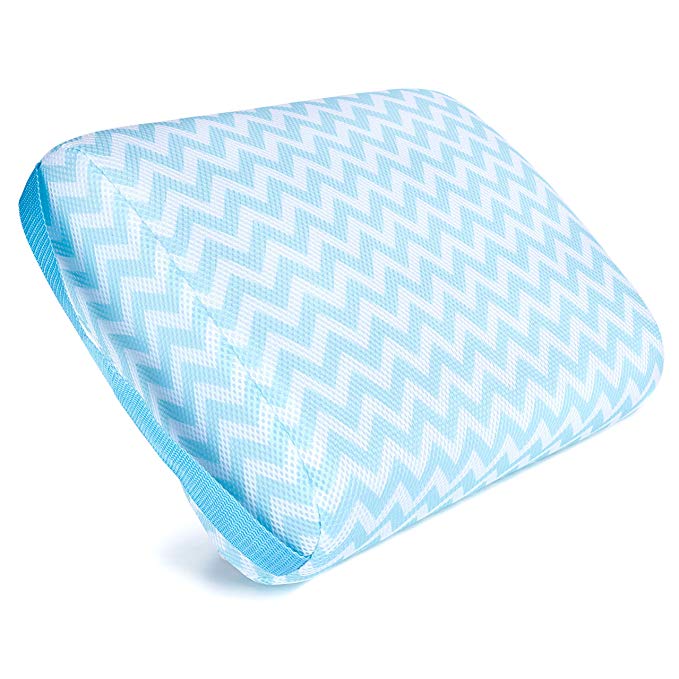 Every manufacturer designs their hot tubs to fit the manufacturer's idea of an average person. If you're a little shorter than that, or maybe you have kids, then the hot tub itself can be uncomfortable to use.
This shouldn't prevent anyone from using their hot tub since they can use this hot tub booster seat. The idea behind the seat is a way to make any tub more comfortable for kids, teens and shorter adults.
It will definitely give you a more comfortable seat and provide some back support. Its weight and resistance in the water make it a great choice for aquatic exercises.
The practical inner compartment is weighted to prevent buoyancy. The comfortable cushion is weighted with 2lb of marble beads which prevents it floating away, so you can leave it in place as you move around.
The cushion cover can be removed and it is machine-washable, which makes it really easy when cleaning and provides maximum hygiene. A side handle strap makes the pillow simple to carry, making it an ideal choice for travel, spa days and holidays.
You can find this item on Amazon.
10. Life Tray Table – Hot Tub Accessories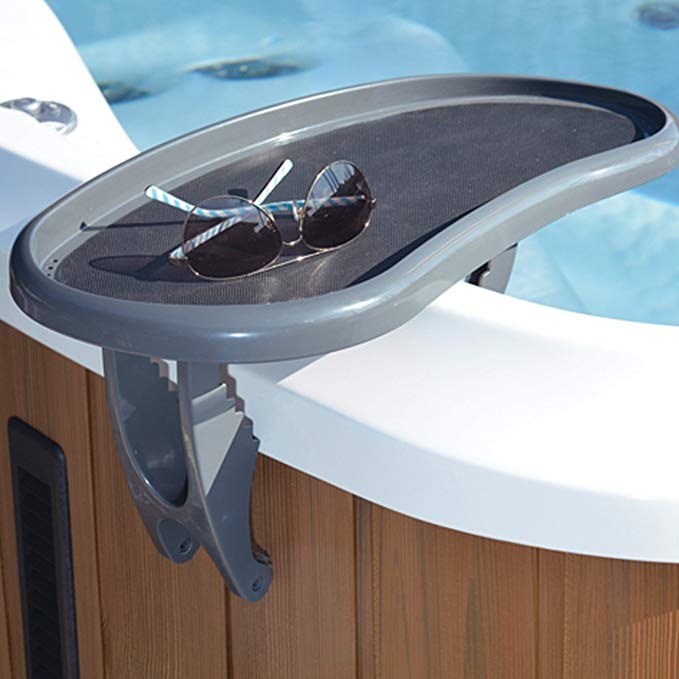 This Life Tray table is only a table without cup holders we saw before. The main advantage of this one is if you need to serve a bit more fruits or snacks and you want a clean, large surface.
It comes with adjustable legs which means that it will probably fit your hot tub just fine. It's protective strips and drainage holes will keep your items in place and won't let it slide while staying dry at all times. 
You can find this item on Amazon.
11. Spa Mineral Sanitizer Sticks for Hot Tubs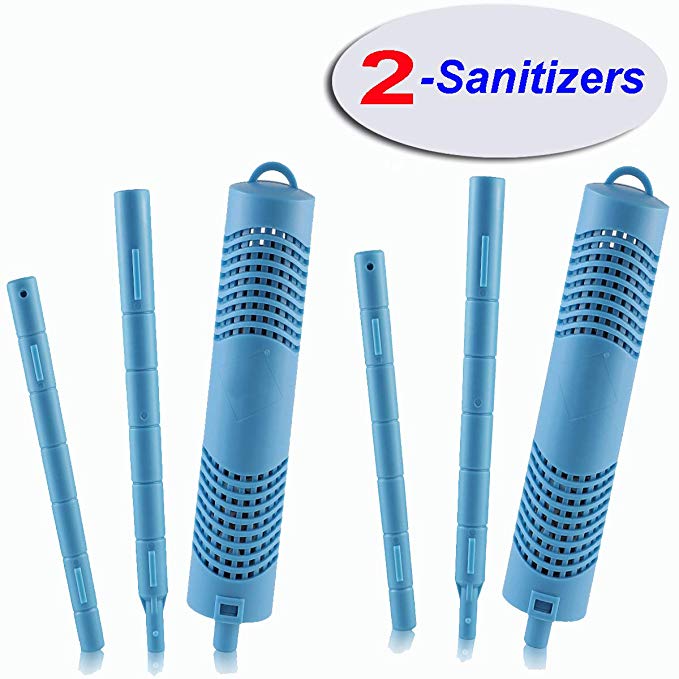 The main job of these silver spa mineral sanitizer sticks is to significantly improve the look & feel of water and to assure an odor-free hot tub while improving the performance of ozone-equipped spas. In the end, it all comes down to bringing you crystal clear water.
They are meant to be an alternative to heavy chemicals since they reduce bromine and chlorine usage by up to 50% in most spas. It is really designed to provide a healthier hot tub experience having more optimal pH levels.
It really has low maintenance costs with a duration of up to 4 months. In addition, it is easy to install and simplifies water balance. They are unaffected by heat and work with your existing flow rates Installation. All you need to do is to simply drop the sticks into your existing filter and let the silver mineral sticks do their work.
It is compatible with most spa maintenance products & designed to fit most spas and hot tubs. Also, it is compatible with ozonators and most suction-side and pressure filters.
You can find this item on Amazon.
12. Hoyle Playing Cards – Hot Tub Accessories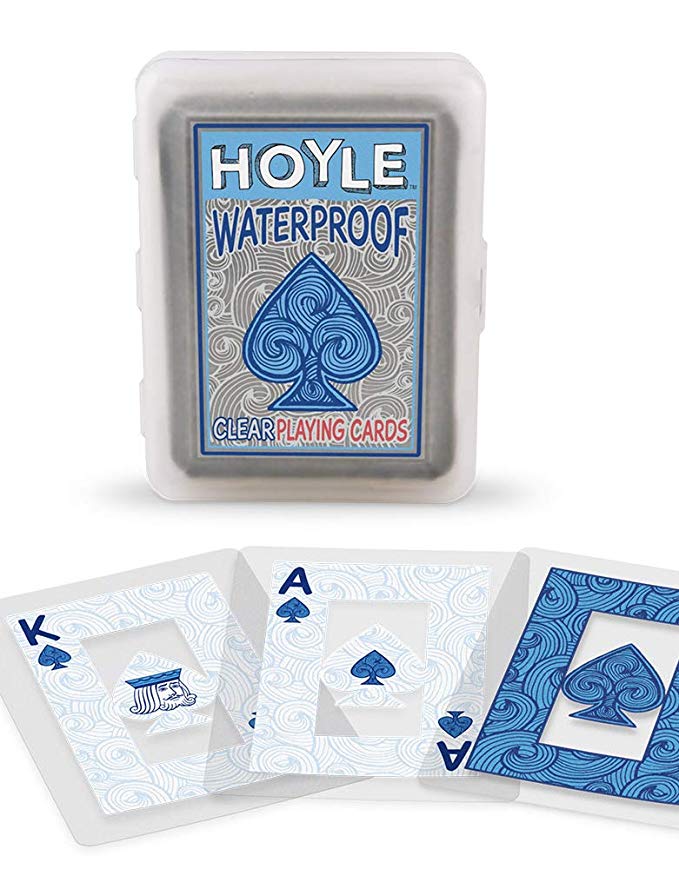 What's a hot tub if you are not having some fun in it. I agree, some people will use it to relax and all they need is to be alone with the sounds of nature.
Other people like having a water version of games such as poker on water or solitaire. Having that in mind, some people have come up with these waterproof cards. Anyone who likes to play cards and love hot tubs will certainly enjoy this particular accessory.
This deck of cards is ultra-durable, waterproof and makes any game more fun. However, it doesn't have to be water only. This one is suitable for the beach or camping. These cards are well-suited for almost any wet or humid situation.
You can find this item on Amazon.
13. Waterproof LED Outdoor String Lights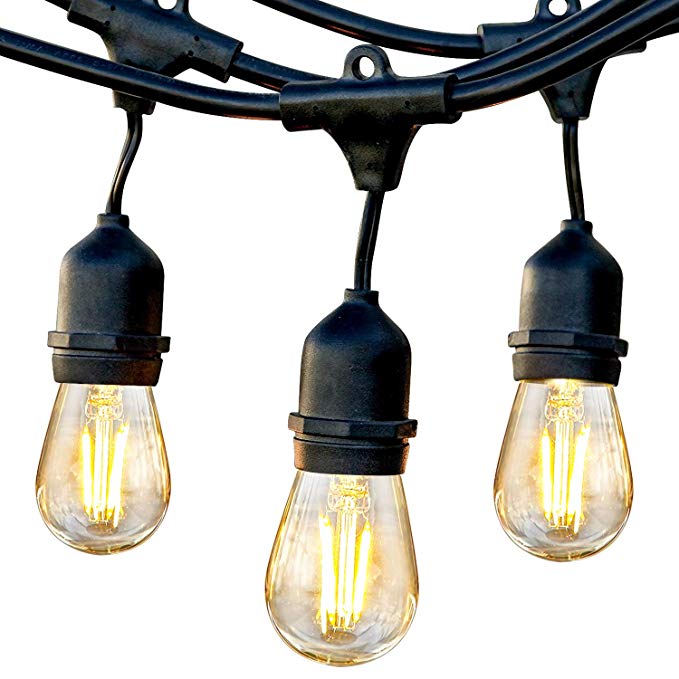 I really really love these ones. They have this retro look and provide such good lighting at night and they can run on solar power. The lights are perfect for your gazebo or porch. In case you also want to do some barbecue, you won't need any extra flashlights since they will provide enough light for you. It will be dimmed enough to not overwhelm you and still let you enjoy your romantic dinner.

They are getting increasingly popular as indoor lighting too, such as bedrooms, restaurants, and bars. They are high-efficiency, 2 watts LED standard base bulbs.
These LED lights are approved for residential and commercial lighting. And the good thing is that they never get hot even after being on for hours. However, keep in mind that they are made for use with 110v. They come with 3 years warranty which is more than enough.
You can find this item on Amazon.
14. Baby Light Up Bath Toys Floating Ducks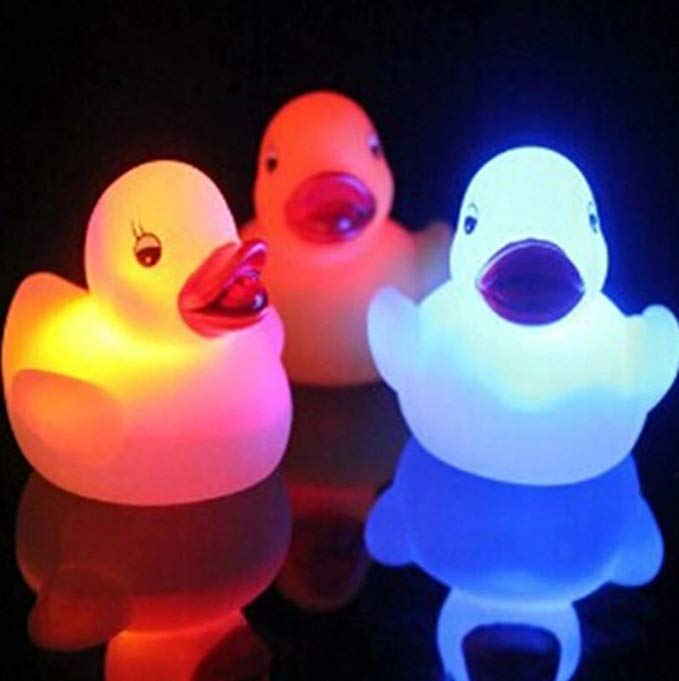 Another great piece for kids and babies. It can be used in a hot tub as well since the water activates them and they can last for a long time. It is a set of 3 ducks that are flashing lights. These ones are designed for toddlers but you can choose others that are more appropriate for older kids. 
You can find this item on Amazon.
15. Storage Seat – Contemporary Indoor and Outdoor Bin Stores Tools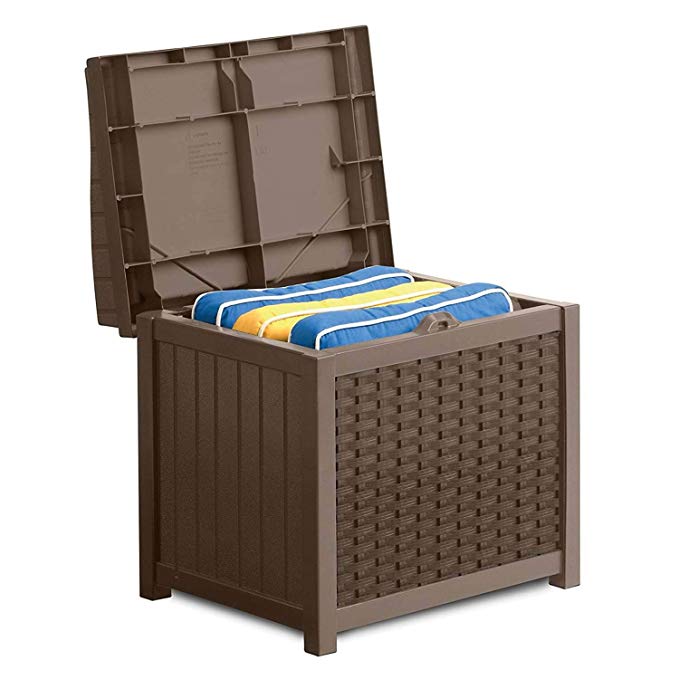 O, boy, do I like this one. Generally, I like anything that helps me achieve order around the hot tub. I think most people enjoy spending time in an organized environment. This is a great 22-gallon storage box that can also serve as an extra seat on your porch, deck or right next to your hot tub. 
Just like when choosing any other patio furniture, you should also pick materials that resist fading and can keep the rust away.
It is 20 inches high and will have enough space for storing any pool toys, tools, outerwear, grill supplies, gardening items and more.
And one last thing. The lid flips open on hinges for easy access to your storage. Rainwater will flow off the box to prevent water pooling.
You can find this item on Amazon.
16. Floating Pool Thermometer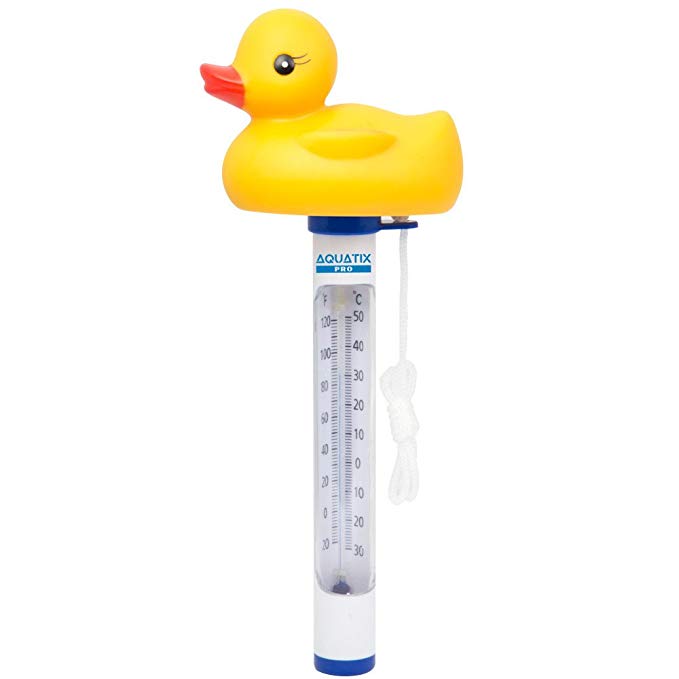 This is a nice blend of a toy and a functional hot tub thermometer. It's just funny because all you can see is a duck floating around. On the other hand, you definitely need such a thermometer that is not a digital one. You can always rely on this one. It has two temperature scales F and C. The maximum temperature is 120F or 50C.
You can get this item on Amazon.
17. Monitor System with Hot Tub Accessory Set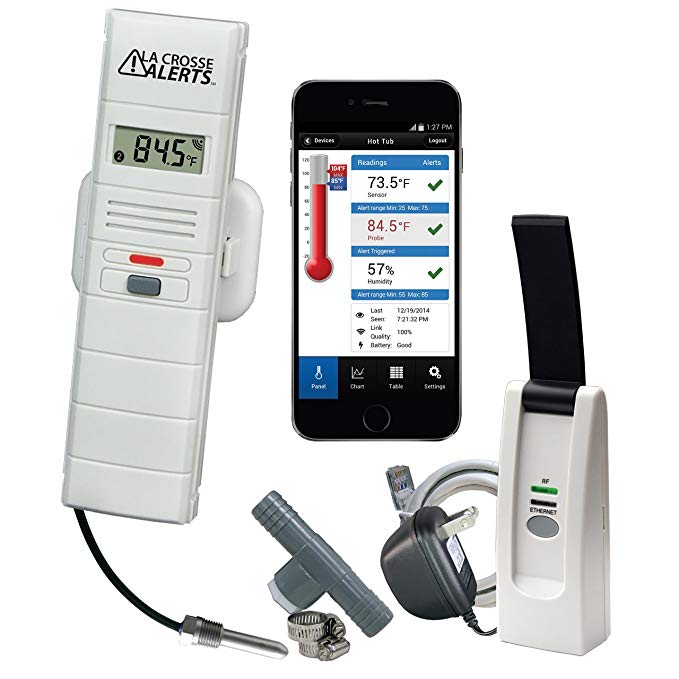 For those who still need to get a digital thermometer, now you can get the best one. What's great about this one is that you can use your smartphone, tablet or computer to monitor the temperature and the humidity level at your home, business or rentals. You can benefit from SMS and email notifications when certain thresholds are reached, or when batteries are weak.

With the winter coming up, it will be most beneficial for monitoring the hot tub water temperature, especially when there is a power outage. The purpose of this is to prevent frozen pipes or property damage.
You can get this item on Amazon.
18. Rubber Runner Mat, Black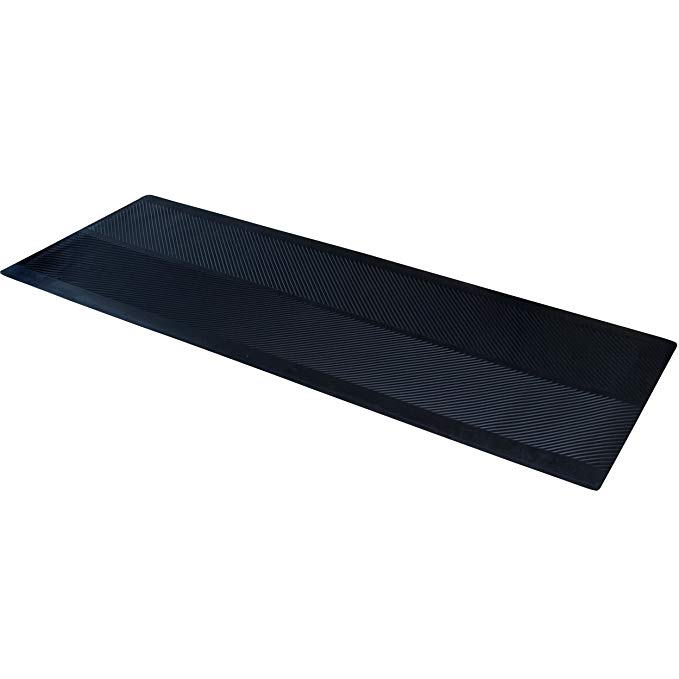 Have you ever had issues with a slippery surface around your hot tub? This item is probably one of the best hot tub accessories that can save you from breaking your hip, and I mean it.

It's diagonal texture can trap mud, sand, water and dirt to keep your deck and patio mess-free and prevent slippery surfaces. It is designed to withstand frequent use and different weather conditions. It is super easy to clean it afterwards by just using a hose and some soap.
You can get this item on Amazon.
19. Unbreakable Silicone Wine Glasses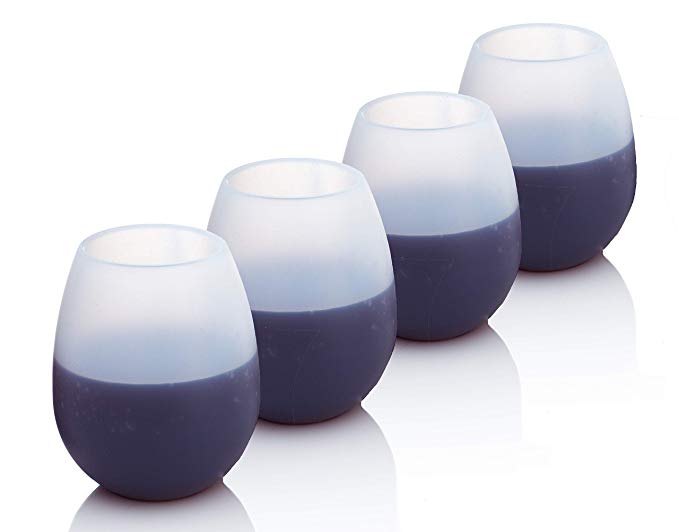 Have you ever broken glass with children around? The first thing I did when someone broke it was to pick the child up because there was glass shattered everywhere.
Your hot tub area is usually where you walk with bare feet and the last thing you want is to have some glass laying around.

Many of us would pass on having your favorite drink served in a glass whereas now you don't have to. These silicone glasses are ideal for your hot tub and because it is not made of glass, there is no real hazard of cutting your feet or hurting your child. This is one of those items where I would feel guilty if something had happened and I didn't use them instead.
You can find this item on Amazon.
20. Kleeger Non-Slip Home Hot Tub Pillow
Ultimate relaxation experience. This is how I would call this one. This is a hot tub pillow with back and neck support. It is completely anti-mold/mildew and waterproof.
It has built-in suction cups with extra padding to provide that ultimate relaxation experience. If not this one, you have to get something for your neck because most of the time the edges of the hot tub shell don't naturally fit the shape of your neck, which will ruin your time in the hot tub.
You can get this item on Amazon.
21. Non-Slip Bath Cushion for Hot Tub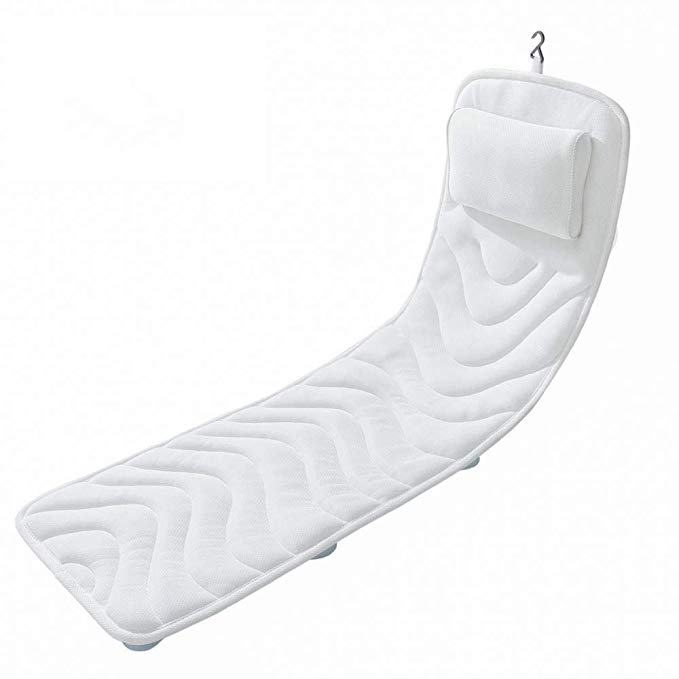 Last but not least, a full-body mattress. You won't even touch the hot tub shell with this one. For me, it is probably in the top 5 hot tub accessories. It has quick drying 3D air mesh that allows water and air to flow through and it looks luxurious. It is really easy to clean it by hand or in a washing machine.

It makes a great gift for anyone who owns a hot tub because they probably don't have this one in their collection.
You can find this item on Amazon.
Bonus Hot Tub Accessories
1. Patio Umbrella Light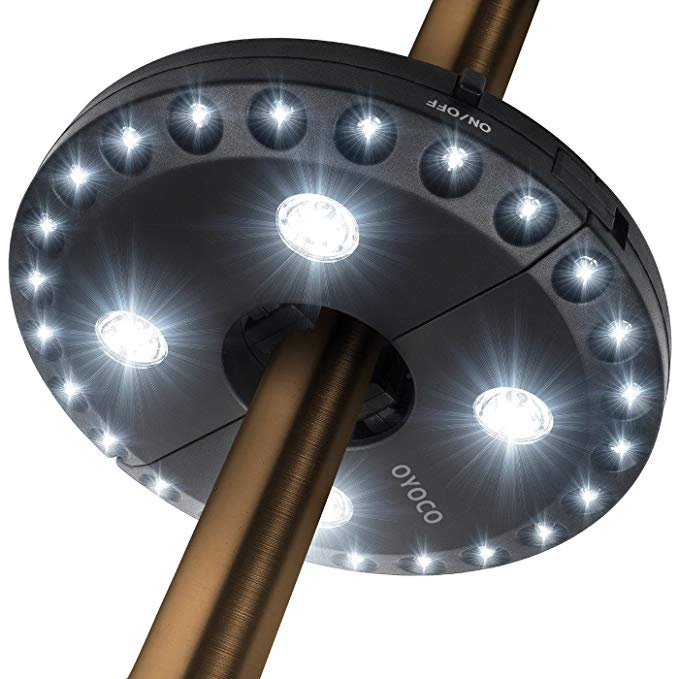 How many times have you found yourself sitting around the patio table in the evening, or relaxing in a hot tub with your friends only to call it a night when the sun goes down? As a bonus for this list, I want to show you this LED umbrella that has the perfect lumination for your time outdoors.

If you would ask how to be sure the light stays on different sized poles: the light is secured by two crescent-shaped rubber clamps which are held against the pole by strong springs.

It is super easy to install. No extra tools needed or wires and electrical sources. All you need to do is to clamp to your umbrella with the built-in auto adjustable strong clamp. It can also be hung anywhere else using the two hooks, pole mounted.
Get this item on Amazon.
2. Sunnyglade 10.8′ x 10.8′ Gazebo Tent with 2 Removable Side Walls for Your Hot Tub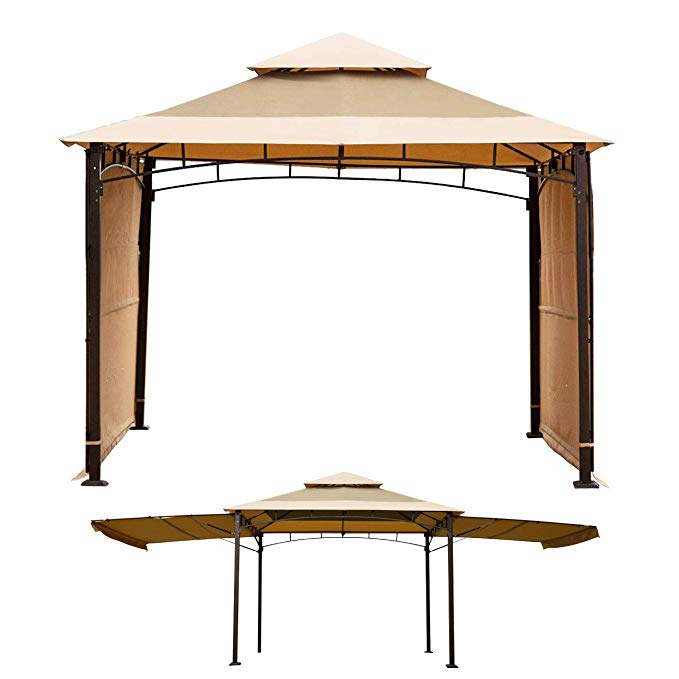 This soft-top gazebo is featured with stylish design, extremely durable construction and it is functional enough to keep you away from sun rays while making your hot tub area much more visually appealing. It provides enough space for a good number of your relatives and friends underneath. It has a central hook in case you want to hang your LED lights.

It can create a relaxing environment from the sun and rain with this well-appointed open air-style gazebo.
It is made by Sunnyglade Patio, a top designer and manufacturer of high-quality gardening products, so we know it is good.
All I am imagining right now is being able to hot bath in the rain, but covered with this gazebo of course.
You can get this product on Amazon.
3. Set of 12 Mood Light Garden Deco Balls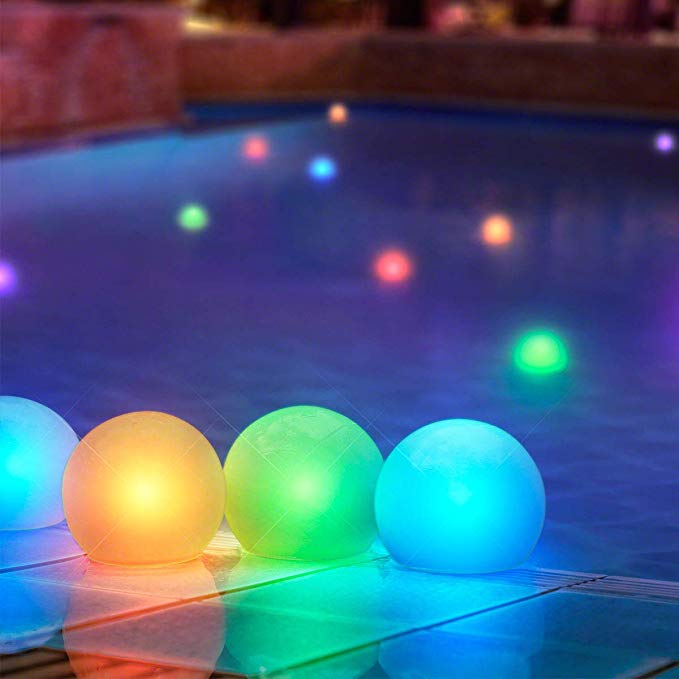 Here the third bonus accessory today. It is Mood Light Garden Deco Balls that are simply too fun to hang around. They feature 7 different colors and they provide the most fun when the jets are on and they are floating around the hot tub. They are not called Mood Light Balls for no reason. There is something calm and relaxing about just watching them float around. It can be used instead of candles as well or placed in a bowl.
Get this item on Amazon.
4. Escape Aromatherapy Bath Crystals
We have treated all the senses except the sense of smell. I still remember the smells of perfumes when I was in primary school, so it is definitely related to your memory. These crystals will enhance any spa or bath experience.
Whether it is about romance, peace of mind or well-being that you are seeking, these crystals help set the mood, arouse emotions, relax your state of mind and remember all of that for a long time.
Get this product on Amazon.
5. CoverMate 7930 Spa Side Handrail with Base
I bet you never thought of this. This is a must-have if you have kids or elderly people who want to use your spa. It can be fixed in any position and will fit any hot tub up to 40 inches in height. The slippery ground is dangerous. Don't risk breaking any limb over 20-minute bathing. Be safe.
CoverMate 7930 Spa Side Handrail with Base
Handrail rotates 360° to allow for assisted spa entry or exit
Locking feature allows the handrail to be fixed in any position for increased safety and peace of mind
Unique under-spa base eliminates attachment to the spa cabinet
Fits spas up to 40" in height
6. 12V Low Voltage LED Landscape Light (Around Hot Tub)
I absolutely love these and regardless if you get this from LEONLITE store or not, you should have some in your backyard and I find it great to place around your hot tub. They are really easy to install and they illuminate enough to create a lovely environment for your family, especially at night while you are you in your hot tub. This isn't a hot tub accessory per se, however, I think you can still combine it with your hot tub to get a unique look of your hot tub area.
Sale
LEONLITE Low Voltage Landscape Lights, Unique Lighting Effects LED Pathway 172LM 3W 12-15V AC/DC, IP65, Aluminum Outdoor Driveway Light, 3000K Warm White, Black Finish, Pack of 6
✅ Love at First Sight: Experience the mesmerizing glow of our landscapeg lighting. Illuminate your space with captivating and immersive 360° lighting, creating a truly enchanting atmosphere
✅ Transform Your Pathway Today! Unique in the market with captivating downward glow and eye-friendly design, Illuminate your pathway with comfort
✅ Safety & Easy: Our low voltage path lights offer enhanced safety for your outdoor and humid lighting use with hassle-free installation. Please note that the package does not include any installation accessories such as transformers, cables, wire connectors, or clips, which need to be purchased separately
✅ Made for Outdoor Use: Rugged aluminum housing with corrosion resistance & heat dissipation. IP65 rating brings better waterproof performance, best choice for outdoor wet locations, resistant to damage of heavy rains
✅ Trustworthy Brand: As a leading provider of professional lighting solutions, we prioritize quality above all else. Rest assured when you choose our products, with a lifespan of 50,000 hours and a 2-year warranty. Contact us anytime for prompt assistance
7. The FROG @ease SmartChlor Cartridge (75 % less chlorine)
The FROG @ease SmartChlor Cartridge is connected to the FROG @ease Mineral Cartridge and placed in the hot tub to sanitize the water. The combination of sanitizing minerals and SmartChlor Technology kills bacteria two ways with up to 75% less chlorine.
I think this is great if you are not so sure about using too much chlorine in your hot tub and especially if you have kids like I do. Maybe try going with this and see how that works for you.
No products found.
9. Aqua Chek Aqua Chek Trutest Digital Reader
I wish I knew about this one before, but the moment I discovered it I include it in here. How cool is this that you can just insert your test strip and get the reading on your device. I think there many people who will appreciate this.
Sale
AquaChek TruTest Digital Test Strip Reader For Pool and Spa Water Testing - Tests for Free Chlorine, Free Bromine, pH, and Total Alkalinity - Quick & Accurate Results Includes 25 TruTest Strips (Blue)
BENEFITS: TruTest provides digital results with the accuracy of AquaChek test strips; ideal for customers who aren't comfortable distinguishing color
AQUACHEK ACCURACY: Using medical industry technology, our test strips offer comparable accuracy to liquid tests; No measuring & counting drops of reagent, leaving less room for error
FEATURES: Combines the ease & accuracy of AquaChek test strips & digital technology; Easy-to-read LCD screen shows numerical results; Includes 25 TruTest Strips
EASY TO USE: No interpreting colors; Just dip the test strip, remove it, & insert it on the test strip reader; Accurate digital results in 15 seconds; Test water at least twice a week
DIGITAL RESULTS: Numerical test results show 'low', 'ok', or 'high' indicators for each of the four test parameters; Will only work with TruTest Digital Test Strips
10. Hot Tub Safety Rules
Listen, if you don't already have this, then you absolutely need to have it. Having written rules hanging from aside to serve as a reminder is a real lifesaver. And I am confident enough to say that it will help you save money too by forcing you to take good care of your water. That will cause you in needing fewer chemicals, hence, you will end up saving some money. Check it out below.
Last update on 2023-11-19 / Affiliate links / Images from Amazon Product Advertising API