Let's learn a few quick tricks and tips on how to additionally insulate your hot tub. Understanding hot tub insulation is a must if you are in the market for a new hot tub, so pay attention.
Key terms to understanding hot tub insulation are first about the type of the spa insulation foam which can vary from no insulation, partial, thermal or full hot tub insulation. Secondly, understand how you can upgrade your old hot tub to make a major bill reduction.
Let's start with some basic understanding of hot tub insulation.
How Is a Hot Tub Insulated
Your hot tub cover is the most important piece of the hot tub insulation puzzle since it directly affects the ability of your hot tub to maintain water temperature.
As I wrote before, the best insulation comes from the best hot tub cover as long as it perfectly fits your hot tub shell, is filled with high-density foam and generally is in good condition.
The center of a great hot tub cover is generally higher than its edges, which is to allow rain to run off and not collect on top. Also, the skirt should cover the hot tub shell entirely. If you want even greater insulation, consider adding some insulation inside the walls of the cabinet.
When it comes to cabinet insulation, it is often made of polyurethane foam. However, the best ones can also be made of other materials. The foam can be rigid (boards) or simply sprayed in. Just like the insulation you have in your home walls, hot tub insulation can vary in density too. Obviously, having heavier densities will provide more insulation.
How Do I Insulate My Hot Tub for the Winter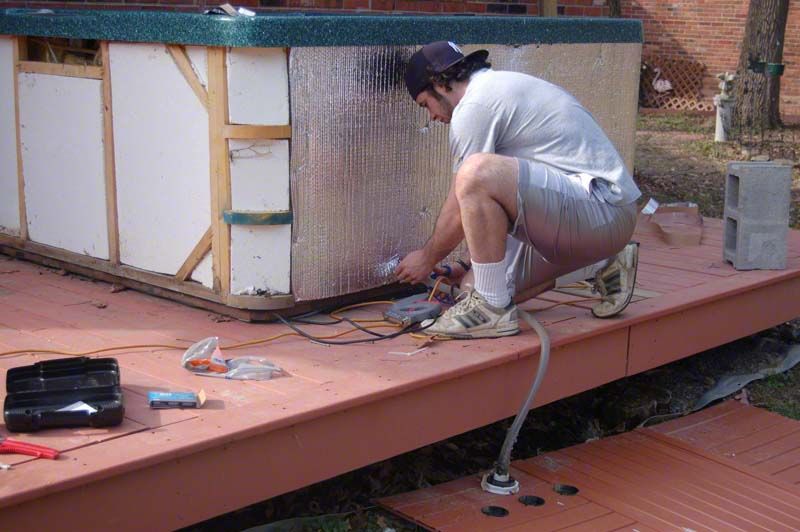 I can say that the best way to increase the insulation is to insulate the hot tub cabinet, that is, unless you already have a 'fully-foamed' spa where both, the shell and pipes are well-taken care of with spray foam.
Make sure to not block the air flow, since there needs to be some air intake. You can line the insides of the hot tub cabinet with pink insulation board or have some attic foam, held in place with construction adhesive.
When it comes to winter, there are a few extra things you can do to make sure you trap all the heat you can in there:
Floating blanket – A floating spa blanket is a quick and easy economical step to make, equally as effective. Floating spa blankets are really effective when it comes to reducing heat loss through spas and hot tubs.
Spa Cover – The very next thing in line that can help you fight the coldest temperatures is a spa cover, especially the one made with 2 lbs Foam weight, in a 6″- 4″ taper used to provide extreme heat retention. Be aware that usual spa covers come with 1lb Foam and a much thinner profile.
The way the spa cover can work against you is when the spa cover absorbs plenty of water, reducing the ability to retain heat. Your cover, being in that condition, will be raised from the spa due to sagging, which will allow even more heat to escape. Consider getting a new spa cover if you want to be sure that you are preserving as much heat as possible.
Spa Cover Cap – Today, you can even get a cover for your cover, in order to protect your investments even further. The way it works is that it stretches over your normal spa cover like a fitted sheet. It protects your hot tub cover from harsh UV sun, rain and snow, all the birds activities and squirrels and more. Most of them come in 2 different sizes and fit most spas, 7' square and 8′ square.
Here is one of great quality from a well-known manufacturer and it's really affordable.
ULTCOVER Waterproof 600D Polyester Square Hot Tub Cover Outdoor SPA Covers 85 x 85 inch, Black
Guaranteed to fit hot tub size up to 85"(L)x 85"(W), Actual cover size is 87"(L)x87"(W)x20"(H). NOTE: This cover can not be used by itself without an insulated hard cover under it.
Made of top quality 600D polyester canvas complex with waterproof backing. Tough enough to keep rain, hail, snow, dust, leaves and bird droppings away.
ULTCOVER provides 3 years warranty and guarantees to be 100% waterproof with seams taped, it's a "WATERPROOF & BREATHABLE" cover.
Well-made structured air vents at two sides stay open to prevent wind lofting. Heavy duty elastic cords allows adjustment for a tight and easier fit, especially during high winds and severe weather.
100% coverage design avoids the furniture exposure in the sun makes your hot tub always look like new.
Complete Spa Cover – If your cover of the cover isn't enough, you can always get The Protecta Spa Cover, which is a cover for your entire spa or hot tub, available in 3 different sizes. The rugged, protective cover encloses your entire hot tub (cabinet and the covers) in order to protect against wind, rain, dirt, snow, and harmful UV rays. 
Cover Wind Straps – If you live in windy areas and own a hot tub, perched out on a high deck or cliff while overlooking a fabulous view, wind can have a negative impact on your spa heat. Having strong winds, at the right angle, can find their way under the hot tub cover skirt and blow across the surface of your hot tub water.
Below, you can see my recommendation for cheap hot tub cover wind straps that you absolutely must have. It will play a big role in energy saving by securing your cover in place and making sure the heat stays trapped inside.
Should I Put Insulation Under My Hot Tub
Definitely, if you want to. Most of today's hot tubs are already very well insulated. However, there is always room to grow. You can add more insulation around your cabinet, which will allow your hot tub to trap the wasted heat that is created by the pumps and heater as well as to help protect the two in case of a power outage.
As much as this energy efficiency sounds great, do not overdo it with the insulation. Remember that the pumps will need extra air to cool themselves, otherwise, they can overheat and potentially break. Simply make sure to leave any cabinet vents unobstructed and remove that insulation in the summer to avoid this.
How Are Jacuzzi Hot Tubs Insulated
Jacuzzi Hot Tubs are built with high-performance and energy efficiency in mind, which makes them a great investment when it comes to your hot tub experience. They say that their hot tubs conserve heat for more efficient operation and they can generally do that because they use components that can maintain thermal energy for a long time. Their hot tubs have met all strict California Energy Commission energy consumption standards.
Jacuzzi hot tubs include high-density foam, plus a lighter foam to fill the space between the shell and the hot tub skirt. It is shown that this framework significantly reduces heat loss and lowers energy bills.
You will notice that some hot tub manufacturers place insulation along the floors while others have the insulation inside the cabinets. These are what we call "partially insulated" hot tubs. Jacuzzi Hot Tubs are full-foam insulated (foam along with the shell, the floor, and the cabinet), which makes them one the most energy-efficient hot tubs on the market.
What Is the Best Insulation for a Hot Tub
Multi-Density and Multi-Layered Full Urethane Foam        Grade: A
This is the best hot tub insulation you will come across if you are interested in keeping the heat in and providing your spa shell and the equipment with the best support against cracks and plumbing leaks in the shell.
This system starts with a 60lb foam being poured onto the shell lining, making the shell stronger than before. It is then followed by multiple layers of foam of a variety of densities providing overall density that is greater than 2lb.
The first question that comes up by many consumers is why don't other hot tubs just use a 4lb or 6lb full foam in order to achieve even better insulation. This is because of the expansion of the foam. The main idea is that the expansion of using a 2lb foam to fill the spa will most likely not cause damage to the shell or exterior. However, imagine if we would fill the spa with, let's say 4lb foam, it would expand and likely cause damage to the spa gradually over time.
Because of this, the main advantage of using a variety of density foam in multiple layers is to allow the foam to expand into each other, creating a higher overall rating of density. To understand me correctly, this kind of system is something you would personally invest in after you have purchased your hot tub, simply because it takes a lot of time to assemble it and is not commonly used when manufacturing spas.
| Type of hot tub insulation | Example | Pros | Cons |
| --- | --- | --- | --- |
| No insulation | Inflatable hot tub | Affordable | Freezing hazard and expensive to run |
| Partial foam | Rotationally molded spa | Affordable Purchase Price; Acceptable in warmer climates | Vulnerable to freezing, more expensive to run than full foam |
| Thermal wrap | Swim spa | Provides basic insulation for a lower temp heated pool | Cannot satisfy the demands of hot tubs |
| Full Foam | Modern mid-quality spa brands | Insulation fills the cabinet and eliminates airflow that allows heat to escape | Single density full foam does not provide the greatest energy efficiency. Possible expansion doesn't allow for higher density |
| FiberCor® | Modern top quality spas, including Limelight® and HotSpot® collections | Loose, wool-like fibers provide the same insulation value as high-density polyurethane foam but are easy to remove when the repair is needed | Less insulation value than multi-density full foam |
| Multi-density full foam | Modern premium quality spas, including Highlife® and Highlife® NXT collections | Greatest energy efficiency and the lowest possible operating costs | As expected, the highest price range |
Why Aren't All Hot Tubs Fully Insulated
If you are one of the people who currently own or looking to get a top-specification, modern hot tub, then you already know that it is fully insulated and ready to fight the lowest temperatures.
On the other hand, if you have an older hot tub, or you went for a more affordable one, then you already know that those either don't have any insulation or are poorly insulated.
Not to say that older hot tubs can't be enjoyable. I am just saying that back then they didn't have the thermal technology we have today.
One of the most compelling reasons for getting one of the latest hot tubs today is the amount of money you will be able to save over the next few years simply due to them being more energy-efficient. This happens with other appliances in your home starting from your fridge, lightbulbs and ending with your boiler. Hot tubs are no different.
On the other hand, you might not be in the market for a new hot tub yet so one thing you can do is to upgrade its insulation. We can all agree, without a doubt, that this will be significantly less expensive than buying a brand new hot tub and will, inevitably lead to some energy and financial savings.
Another common thing is that more budget-priced hot tubs come with significantly less insulation in them. Insulating a hot tub and making it thermally efficient is not cheap, which is the best place for the manufacturers to cut costs and allow themselves to produce cheaper hot tubs. 
If you don't know much about hot tubs, and you are about to buy one, all of these budget-priced hot tubs can look the same to you. This is due to the fact that we forget that the real value of a hot tub lies inside the cabinet, both in the components and the insulation.
How Can I Add More Insulation To My Hot Tub
There is always that if you are not happy with how your hot tub is insulated, you can do more.
Let's look into additional things you can do, in order to reduce heat loss and improve energy efficiency.
Spray Foam 
Spraying the foam all over your hot tub is a bigger topic, but I wanted to mention it in case you want to dig deeper into it later. It can certainly be a more expensive option and require a bit more time and skill to apply the foam only where it is needed, however, the results are fantastic and well worth it.
It's perfectly acceptable to spray foam all over the outside of the shell and inside around pipework, jets, and joints. A big must is that you need to avoid spraying the foam directly on to the components that are likely to get hot or the ones that need ventilation such as the heating area or pump.
Spray foam kits that are specifically designed for insulating hot tubs start off at around $400. Keep in mind though that the reason for doing spray-foaming is to lower your costs and save money long-term.
You can generally plan to pay off the spraying kit in the next 12 months if you are using the hot tub constantly throughout the year since the average expected saving per week is around $20 – $30, depending on how often you use it.
Insulating From The Ground
Many people forget about this tiny detail. Do not place your hot tub directly on the ground if you live in areas with cold winters. This will suck the heat from the hot tub as well. For this, you want to have a well-insulated material separating your hot tub and the ground.
Insulating From The Elements
The other thing that can have a significant impact on your hot tub heat preservation is its position outside. If it is already well-insulated from cold winds by surrounding walls or fences then it will stay warmer for a longer period of time. Also, if it is close to a house or a shed, then this will also insulate the hot tub from the worst of the cold weather. Finally, if you could possibly place your hot tub in a sheltered, sunny spot it will help keep the water warm and use less energy in the long term.