Yes, these are the best hot tub maintenance apps. We now have apps for your hot tubs to save the day.
Whether you are the proud owner of a shiny new hot tub or already own one, you might be wondering what is the best way to maintain the crystal clear water that looks so inviting.
These are the best hot tub apps you can get:
PHin
Zodiac iAquaLink
Pentair ScreenLogic
Insta-Link Water Testing
Nimbus Pool Doctor
Pool Calculator
Pool Boy Pro
Pool Smart
Balboa Spa Control App
Pool Heater
Pool Care
Pool Pal
Sunsmart
AquaChek Smart
MAAX Collection
Cloud Control
Sunsmart
Prolink App
Raypak
Hows My Water
The number one complaint among owners of hot tubs almost always has something to do with maintenance. These complaints usually range from how many chemicals need to be added to how difficult they are to drain and refill.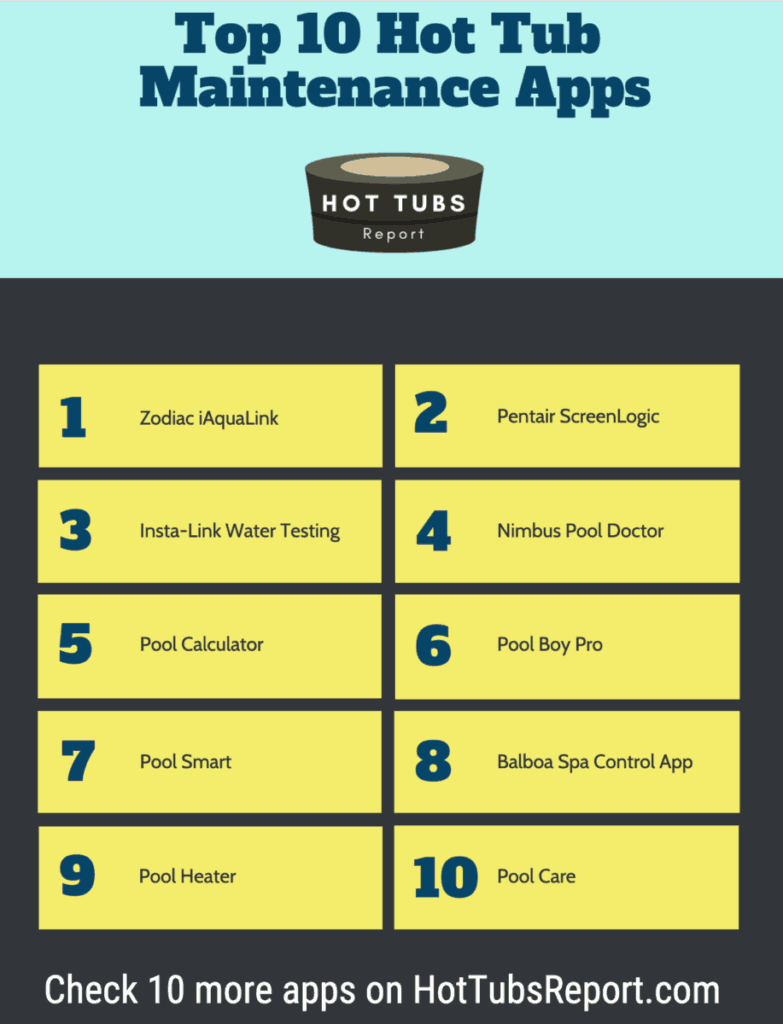 How Much Does PHin Cost
There's a new Bluetooth-enabled pool maintenance sensor called pHin that will check the chemicals and tell you when the hot tub is ready or not. It continuously monitors your hot tub water chemistry and then tells you on a smartphone app when it's safe to get in. All you have to do is plop pHin into the water and add a few water-soluble packets that come with the device, according to your hot tub needs.
Other automatic hot tub chemical systems can cost around $500 to $1,200 to install. Sutro's connected chemical system will also monitor the hot tub on your smartphone for $229 if you pre-order it. However, pHin comes with a subscription service that starts at $149 for three months.
pHin Smart Water Care Monitor for Pools, Hot Tubs and Spas - 24/7 Continuous Water Testing + Know When to Add Chemicals with Automatic App Notifications (New & Improved)
AUTOMATIC NOTIFICATIONS: The pHin app automatically alerts you when you need to adjust your chemicals and lets you know exactly how much of which chemicals to use. Works with both Android and iOS.
TAKES GUESSWORK OUT OF ADDING CHEMICALS: Scan any supported chemical's barcode and the pHin app will calculate how much to add to your water. Supports most major chemical brands.
POOL AND HOT TUB CARE SIMPLIFIED: Instead of showing you continuously changing raw readings, pHin's built-in intelligence samples your water chemistry more than 1000 times per week and creates customized recommendations based on your pool or hot tub's unique measurements.
SUPPORTS ALL WATER TYPES: Works with chlorine, bromine and salt water based pools, hot tubs and swim spas.
LIFETIME WARRANTY: Your pHin Smart Water Care Monitor has a lifetime warranty. If it ever fails while you are a paying subscriber, we will send you a new monitor free of charge.
Smart Phone Apps For Your Hot Tub
Today, there are apps for almost everything with just a few taps, you can instantly access the latest information and check out how your water is holding up.
With nearly every part of our lives being simplified by our smartphones and iPhone, it is time we gear up to hot tub apps.
With so many apps available, it is time you smartify your hot tub and upgrade your hot tub experience with smart technology.
Maintenance apps come in all shapes and sizes for your pools and hot tubs. While they won't get out there and clear out the water filters of your pool and spa for you, these apps make sure that you don't forget to do it. When you keep your water quality high, you spend much less time and money on maintenance.
A lot of apps are perfect for both pool and spa care. Here's a list of app recommendations you can try out to see which product and type of smart app is the best for you to simplify your hot tub maintenance and spend more time doing what you love, without spending all of your time testing your pool and spa to check if it is optimum condition.
20 Smart Phone Apps For Hot tub Maintenance
Zodiac iAquaLink
iAquaLink app helps pool pros monitor and control all the elements of a pool/spa system anytime, anywhere through a mobile smartphone, tablet, iPhone or computer. Whether controlling features such as water heaters, pumps and pool lights, or backyard features such as landscape lights and fire and water features. From automating a single piece of equipment to automating the entire pool and spa (up to 32 features).
Pentair ScreenLogic
The Pentair ScreenLogic app works much like the Zodiac App but works with the Pentair pump control systems. It supports changing all of your pool/spa settings on the fly if you have the supported Pentair pump system.
Insta-Link Water Testing
Insta-Link is a free app that uses a special test strip to help you manage your pool/spa. The app takes a photo of the test strip, then tells you exactly what chemicals you need to add! Additionally, you can monitor the history of your water, check the water level and set maintenance reminders for yourself. No hardware needed, but the test strips are available.
Nimbus Pool Doctor
Nimbus pool doctor helps you balance the chemicals in your pool/spa, and keeps a record of the treatments you've completed in the past.
Pool Calculator
Pool Calculator does just what the name implies. It does the complex pool/spa calculations for you. All you need to do is enter accurate information about your pool/spa (size, chemical readings, etc.), and it will tell you how much of each chemical to use.
Pool Boy Pro
Pool Boy Pro includes multiple calculators, and charts so you can see the change in readings over time.
Pool Smart
Pool Smart includes a checklist for managing your pool/spa as well as a chemical calculator that shows you the exact amount of chemicals to use.
Balboa Spa Control App
The Balboa Spa Control app lets you control your supported spa from Balboa. This app lets you directly control everything from temperature to filtration cycles. It provides customer access to their hot tub via a direct connection in the local proximity of the tub or from anywhere there is an internet connection. With the app, users can start the tub, change settings and access a full interface control to set the temperature, turn pumps on and off and set filtration cycles. Note: This app only works if you have a Balboa brand system with Wi-Fi.
Pool Heater
A must-have an app for any of you that enjoy dipping during those cooler months, Pool Heater will communicate with your pool/spa heater via Wi-Fi and allow you to set the temperature from the comfort of your home.
You can even schedule times for the heater to kick on and warm up the pool so it is ready to go when you want to have a bath no matter what the temperature may be outside.
Pool Care
This app has everything you need to properly monitor your pool. Enter your chemical readings into the app and begin to track the water quality in minutes. It will even provide you with advice and recommendations on what you need to do in order to maintain the very best water quality in your pool/spa.
Pool Pal
Another great tracking app, its multiple pool support is where this one really stands out. If you work on more than one pool/spa, then this comes as a very handy tool for tracking and maintaining water in your pools
Sunsmart
An app designed specifically for owners of Sundance Spas, this handy smartphone addition will help you track many aspects of your hot tub water. Some of these include chemical makeup, water quality and even temperature.
AquaChek Smart
This app uses a testing strip to help you test your water in a no mess, no fuss setup that is easy to do. The app will read your water quality and recommend the type of chemical you need to add to it to keep the water in the best shape possible. Remember, your hot tub water needs to be in great shape in order to be safe, and this app will make it easy for you to keep it that way. You can use this app along with your testing strips to easily read and track the results.
MAAX Collection
It seems Balboa is the way to go with hot tub systems if you want to control your hot tub from anywhere in the world. This app will allow you to access your Balboa system and configure everything from your pump controls to lighting. Create timers to turn your hot tub pump on and off from the comfort of your couch.
Cloud Control
The Cloud Control app will let you control your Bullfrog spa right from your smartphone, iPhone or tablet. It's compatible with both iOS and Android devices and will let you control a wide variety of hot tub settings from almost anywhere. Adjust your pump and filtration settings, change the temperature, and much more all from your smartphone or iPhone with this handy little app created specifically for Bullfrog spas.
Sunsmart
If you have a Sundance spa, then this is the app for you. This app will connect to your Sundance spa and give you control over almost every aspect of its controls including the lights, pump and much more. You can set it to send you reminders about water maintenance and if there is a problem, it can even notify your dealer for you so they can dispatch a repair technician.
Prolink App
Another great app for controlling your spa. This particular app has been designed to work with Jacuzzi brand spas. Schedule water care operations, adjust the temperature and even control your jets with this app from almost anywhere. All you need is an Internet connection both at home and on your smartphone or iPhone.
Raypak
Raypak offers three apps for iPhone and smartphone devices that serve as reference guides for the gas heater, heat pump, and the 84 Professional. Features include installation criteria, general use information, diagnostic tips and full-color/scalable wiring diagrams.
Hows My Water
This free iOS app uses the onboard camera to take pictures of pool-testing strips and instantly provide treatment instructions.
The pHin app is designed to make a swimming pool and hot tub maintenance easier. pHin monitors water quality 24/7 and notifies a user when chemicals are needed. Working in conjunction with the company's color-coded pods, the system will monitor and notify the user with easy-to-follow recommendations on how to balance a pool's water chemistry. Available for iOS and Android devices.
Hot tub app
There are hundreds of both android and iPhone apps that make it easier to control and manage your hot tub. From the likes of Aquacheck to cloud control, you can calculate the amount of chemical your tub needs on the control panel with a few clicks on your phone, monitor the temperature, plus manage pumping and filtration. Other apps include SunSmart, OnSpa, MAAX collection, and Prolink.
Hot tub maintenance checklist
For your hot tub to serve you as long as possible, here is a maintenance checklist you should keep:
Water chemistry with a chemical checklist
Maintain the water level
Clean or sanitize the tub weekly
Drain and thoroughly clean the tub quarterly
Let the cover breathe regularly
Inspect the spa's jets, valves, and pump monthly
Professional inspection annually
Best hot tub chemical
Hot tub chemicals are essential for proper tub's use and maintenance. From sanitizing to bacteria control, you will need different chemicals for every purpose. Leisure Time Bright and Clear is a popularly used chemical for sanitation and efficient filter performance. The same brand's non-chlorine shock is excellent for tub users who use bromine or avoid chemicals altogether.
Hot tub management software
Aside from apps, hot tub owners can manage their tubs using hot tub management software. Such technology makes machine to machine communication possible using Wi-Fi connections, Bluetooth, or cell towers like Smart tub.
One can control the tub's temperature, pumping routine, chemical balances, and other maintenance scheduling from a hot tub management software. Some of these types of software are available as both desktop software and phone apps.
Spa chemical calculator app
A spa chemical calculator app helps tell the tub's user the number of chemicals one should add for proper pH balance. Some apps will need one to manually input the tub's water capacity and chemical options to calculate the input proportions.
Others only need you to take a photo of the chemical strip then the app calculates what more chemicals you need to add to the balance. Such apps include Insta Link Water Testing, Pool Calculator, and Nimbus Pool Doctor.
Aquacheck app
Aquacheck is a pool's water testing app available on both Apple and Android phones, free to download. The app uses an online water test strip to relate with the physical strip you have and then interprets your strip's readings. You take a photo of your strip and scan it into the app, which then tells you which chemicals you need to add.
Hot tub maintenance software
Maintaining your hot tub can easily slip through your fingers, especially for someone who has a lot on their plate. With the help of hot tub maintenance software such as Perfect Pool and Spa and Synchroteam, one can easily maintain their tubs by controlling chemical levels and performing other maintenance practices that ensure your tub is safe for use. These types of software are available for both home and commercial uses.
Spa chemical calculator
A spa chemical calculator is a device that helps you know the number and amount of chemicals you should add to regulate your tub's water. It helps regulate hot tub sanitizers, balancing pH and alkalinity levels, plus monitors calcium hardness. Some calculators are manual, while others can be downloaded online as chemical calculator apps. Both serve the same purpose, but the latter is more convenient.
Smart hot tub
Thanks to technological advancement, people are now operating and enjoying their hot tubs more efficiently. Smart tubs are tubs that come with efficient control systems that you can operate remotely from your phone. Such tubs use Wi-Fi, cell towers, or Bluetooth connections to offer a machine to machine communication. This makes operation and maintenance easy and efficient. Smart tubs are also energy efficient.
Automatic hot tub maintenance
Since 2016 more companies are building automatic hot tub maintenance systems. These systems take the maintenance hassle from the tub's owners. The systems are self-adjusting and self-monitoring.
They link with the tubs' saltwater sanitizers using controlled sensors and regulate the water's chemical balances throughout. Unlike chemical calculator apps, one does not need to input any queries after the initial programming manually. They are a one time set kind of technology.
Bluetooth pool chemical monitor
A Bluetooth pool chemical monitor is an app you download on your phone and link it to your tub's control panel using a Bluetooth connection. The chemical monitor evaluates the chemical conditions of the pool's water throughout and alerts you in the event of an imbalance. Such a monitor takes the strain of regularly testing the pool's water manually.
Hot tub monitoring app
A hot tub monitoring app helps hot tub users to keep an eye on their tubs even when they are not physically within the vicinity. With a simple connection either through Bluetooth or Wi-Fi, one can adjust the tub's temperatures, open and close the tub's pumps and control its filters. This comes with efficiency and convenience, all at the palm of your hand.
How to take care of my hot tub
When thinking about taking care of your hot tub, you should be thinking in terms of maintenance and management. For starters, you need to ensure that your tub always has water with the right pH balance; else, you risk exposing it to algae, bacteria, and mold growth.
You will need to test the water for chemical balance regularly or use chemical monitoring systems for better maintenance. Secondly, shock clean your tub weakly and drain to thoroughly wash it quarterly.
Take time to regularly evaluate the pumps, filters, and jets to ensure they are working correctly. At least have a professional take a look at your tub annually, so you do not bypass any conditions that need urgent checks. Read through your tub's manual to understand the best tub's care, which might differ from different brands.
Hot tub maintenance log
When you are about to resell your hot tub or want to know it's current value, you will understand why keeping a maintenance log is so important. The work of this document is to keep a record of all the maintenance processes that you performed on the tub throughout your stay with it. It includes the tub's name and model, how many times repairs have been performed, and the repairs' details, including date, time, and work extent.
Related Question
How Do I Take Care Of My Hot Tub?
By honing your hot tub maintenance skills and creating a regular yet simple schedule, you'll be ready to keep your spa in tip-top condition, help prevent costly hardware, chemical and water issues, and tackle any problems that do crop up.
If your hot tub doesn't have an automatic cycle, make sure you turn it on for 15 to 20 minutes, twice a day, to ensure your water's been refreshed. The more you run your hot tub, the cleaner it'll be.
A weekly clean is essential hot tub care. But plan to drain your spa completely for a thorough cleaning every three to four months, and more often if you're using it often, or having a lot of guests in it, or both.
Soak your filters in chemical cleaner every time you drain and refill your hot tub to extend their life and loosen any stubborn particulates. Rinse them thoroughly afterward.
When your filters get to the point where even a chemical soak doesn't completely clean them, it's time to replace them.