Here is the ultimate hot tub buying guide researched in order to help you get the perfect hot tub for your perfect hot tub moments.
More and more people are starting to invest in hot tubs as they are realizing the benefits of hot tubs as a way to relax and unwind, manage muscle soreness, as well as enjoying social time with friends and family.
With this hot tub buying guide you will be able to make a more informed decision on which hot tubs to buy and what to avoid during the process. It is essential to ensure that you know which brand you prefer, which ones gives the most for the buck, what the different costs are of the various products that are out there as well as the features that the spas offer so that you are able to get the best value for money.
Portable Hot Tub Versus Regular Hot Tub
When deciding which hot tub to buy, you would need to choose between the options of a portable hot tub or a regular hot tub. Portable units sit above the ground and are made from fiberglass, polyethylene, or acrylic. Regular hot tubs are built into a patio or landscape from materials such as stone, concrete, or tile, and you are required to step down into them.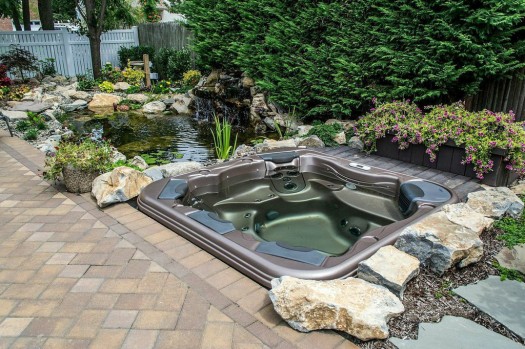 The advantage of a portable hot tub is that is costs less money and the installation is a lot easier. Many feature more ergonomic seating options than an in-ground hot tub can provide, too, as well as hydrotherapy from strategically placed jets.
Hot Tub Location
When you buy a hot tub the location will determine what size your hot tub should be. While the majority of hot tubs are between six and eight feet in length, you should first ensure that you accommodate enough space for covers, steps, or equipment.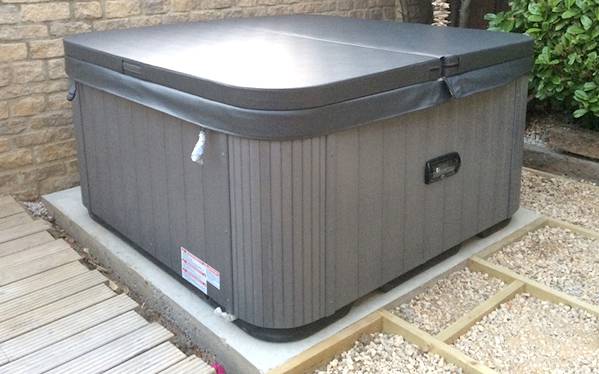 The surface on which you place your hot tub, can be a concrete pad, pavers, brick, crushed rock, or a reinforced deck as long as the ground is level and structurally sound and remains level no matter the weight of the hot tub.
You will require a control panel with a 50-amp breaker and the ability to run 240 volts of power to the hot tub's location. If however you do not have this facility available you will need a reputable electrician to run the power and hook up the tub.
Extra Add-Ons For Your Hot Tub
If it is your personal preference you can now nearly match your hot tub to your patio furniture as some high-end models now come in a variety of colors for the shell and cabinet sides.
There are premium audio systems with waterproof speakers that can be integrated into your hot tub, as well as a mobile phone apps for remote operation and monitoring. There's also the behind-the-scenes technology you can't see, which is oftentimes the most important add-on available. If you really want to high level your hot tub, you can add waterfalls and changing LED lights.
Purchasing your hot tub should be something that the family is included in. It can be bought online or from the manufacturer directly. Ultimately it is best to consider purchasing your hot tub from reputable dealers, they will be able to explain the various brands to you as well as cost and warranty, as well as guide you on the best quality manufacturers. The dealer can offer after-sales support once you have purchased your hot tub as well as different service from the manufacturers of your hot tub.
What Should I Look For When Buying A Hot Tub?
Before buying a hot tub, you should always do some research first. There are a lot of options on the market and you can start to feel extremely confused if you are unsure as to what features you should be looking for.
Ultimately the deciding factors when you buy a hot tub is what you want to do with it and what features and benefits are important to you. Dealers with experience should ask you key questions about your needs and lifestyle. If they don't, it is a good idea for you to ask key questions about them and their products.
Make sure to have your buying guide with you and ask the dealers about the various options they offer on spas and what the various features of each brand are.
Here are some tips to guide you in buying your hot tub.
Seating Capacity And Layout
The hot tub that you choose should have the correct seating layout and moulding for your specific needs. It is therefore a good idea that while visiting your local dealer you ensure that you try out each hot tub before buying the product. This is why buying your hot tub online is not ideal unless you have already tried a few locally and just looking for a cheap hot tub price online now.
It is important to note before your purchase that your foot size is also important. This is the part at the bottom of the spa where your feet rest. If a spa is advertised as having 5 seats you need to remember that there are going to be up to 10 human feet inside the footwell. Make sure there's plenty of space for long limbs and big feet.
Choose a layout that suits your spa habits. If you like your own moulded seat, great. But if you like wide-open spaces, choose something with bench seating or a more open plan.
Hydrotherapy vs Jets
There are many benefits to hydrotherapy, but you should ensure that it's gentle heat and a spa experience that you are after, or genuine massage in areas of your back or neck. If you want all the energy of a full, multi jet massage experience (plus the standard 'bubbles and water', be prepared to pay more for more jets and pumps to give you what you really want.

The Pump-to-Jet-ratio is very important as spas should be powerful enough to give you the power you require. Ask the seller these questions to help you learn more about Jets vs Hydrotherapy.
Insulation (Super Important tip #1)
This is one of the most important points on relating how much it costs hot tub buyers to run their spa. The cost of running your spa is directly proportional to its ability to retain the temperature. That's because the heater won't be coming on nearly as much in a well-insulated spa. And this is completely irrespective of the KWh or power of the heater unit inside.
With this in mind, you should always ensure that you are getting the very best insulation for your money. Shell, pipework, cabinet, and base insulation is important. But at the very least, the shell must be closed-cell insulated. Also, note whether the base is fiberglass or just soft material like canvas or cheap plastic. Beware of gimmicks that state "7 layers of insulation" or similar, and often includes the layer of 'acrylic' which is simply the top colored surface of the spa.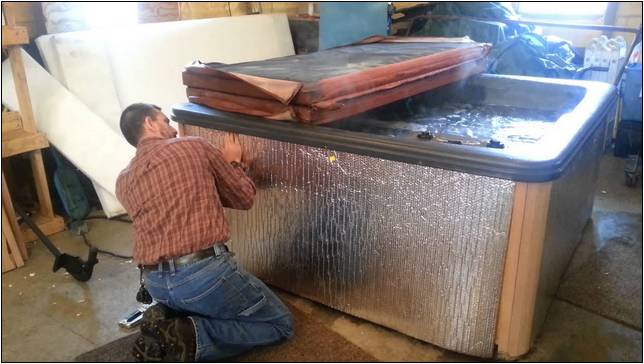 Check the facts; insulation should be high-grade, closed-cell and properly installed foam. Cabinet insulation should be foam with reflective (not absorbent) material to hold the heat inside the spa. The hardcover should be a heavy foam cover with means of draining water from its core (to keep it light), and make sure it folds on itself, with handles and a locking mechanism for easy removal & security respectively.
Sanitization
All spas should come with Ozone Purification which is an easy and effective means of purifying water. However, the best hot tub options should already include a UV-based sanitization system that passes water through a special 'UV-bullet' of light that destroys bacteria. UV sanitization is the best alternative approach of securing against harmful water contaminants.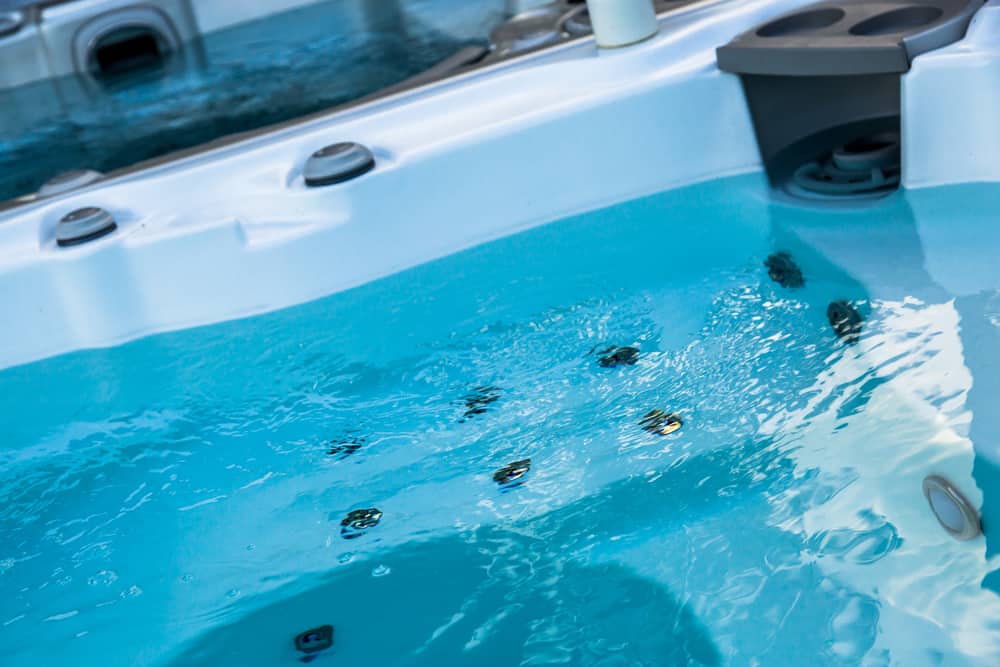 Your water care should not stop there. Your hot tub will need very small (but no more than recommended) amounts of specific chemistry (such as Lithium Hydrochloride). Ask dealers about the recommended doses and frequencies of application.
Saltwater in spas are generally corrosive to equipment, and while dealers market this as a "selling point" when you are in the market to buy a hot tub, the process uses the salt chemical compounds to create actual Chlorine. So, not only is it a myth that properly installed salt spas are "Chlorine-free", but it is also not the best option out there.
Additionally, be cautious of the "lower running costs" selling point as well. After maintenance, your equipment warranty will expire, so you could be up for significant hot tub maintenance bills when using salt. Remember that you still need to balance PH levels and clean/replace filters just like in any other system, which additionally adds to the overall cost.
Warranty, Service & Support (Super Important tip #2)
One of the most important factors to take into consideration when buying hot tubs is whether or not you have purchased it from a reputable manufacturer. They should understand their products well and be available 7-days-a-week, to guide you with any issues you might have.
It is essential to read the warranty details, and examine the way in which the company allows you to choose what you want and doesn't pressure you into a purchase of your hot tub. Try to ask questions as to realistic maintenance issues that could arise.
Your hot tub experience should always be a pleasant one and doing your research on the business you are buying from is paramount to ensuring that you enjoy this experience for many years to come.
What Brand Of Hot Tub Is The Best?
I am imagining that at this point you already know the reason you are buying the hot tub. The following list is purely based on the specifications of different hot tub manufacturers, as we try to make the best shot of finding the most affordable hot tub option out there.
Here is a guide of some of the best hot tub brands to help you find the right type of hot tub for your space and budget.
Sundance Spa: Best Overall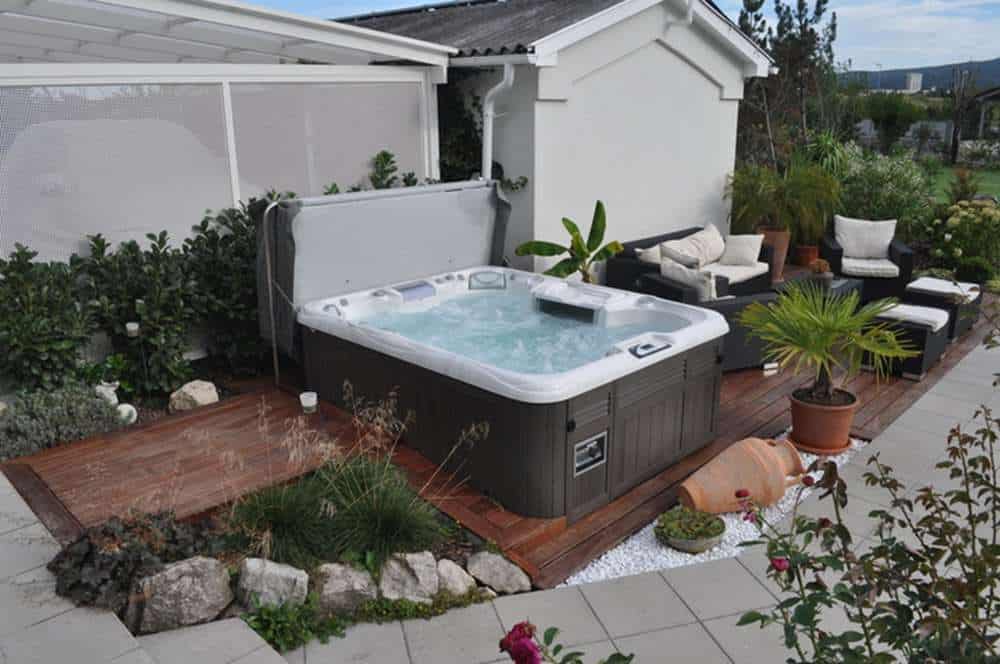 A hot tub company with quality products, premium features and a lot of choices.
Price range: Entry-level – luxury | Sizes: 2-3 seats – 7-8 seats | Energy efficient: Yes
UV-C sanitation and water features
More colors to choose from
Mostly premium and luxury models
SmartTub subscription fee
Sundance Spas offers the best hot tub features, from standard built-in smart capabilities to its adjustable Fluidix jets. Though most of Sundance's models fall in the premium and luxury pricing range, the brand does offer a good variety of spas across the entry and mid-level pricing ranges in small, medium and large tubs. 
Even the less expensive models come with multiple shells, cabinet, and cover color choices, as well as premium features such as UV-C water sanitation and waterfalls that many other companies charge as upgrades. All Sundance hot tubs are compatible with the SmartTub hot tub mobile app, though this requires a paid subscription after the first year. 
Master Spa: Best Value
A fantastic hot tub company for people who want a budget spa.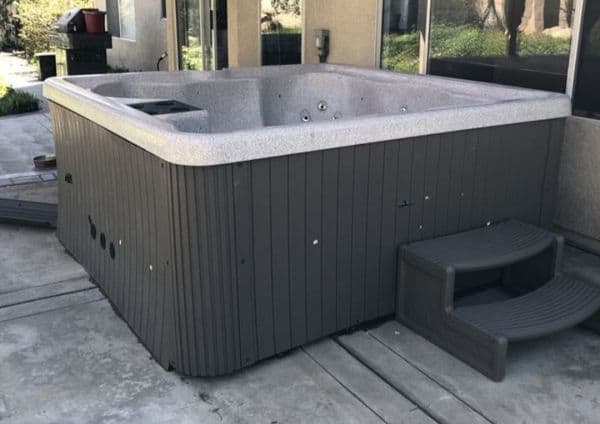 Price range: Entry level – luxury | Sizes: 2-8 seats | Energy efficient: Yes
Offering many entry and mid-priced hot tubs
Unique bio-magnetic therapy
Made in U.S.
Few customization options
"Master Spas" has a good variety of spas categorized into the entry- and mid-level pricing ranges, making this brand a good value option. The brand has 21 hot tub models, 13 of which fall into the entry- and mid-level pricing ranges.
They offer several premium features standard in all models, including waterfalls and a unique bio-magnetic therapy system. 
This brand also has the best upgrade, *including both UV-C and ozone sanitation) options, a Wi-Fi module and Bluetooth audio. However, the customization choices and shell colors were less extensive than other brands. 
Bullfrog Spa: Best For Massages 
A hot tub company that will give you the best massage ever.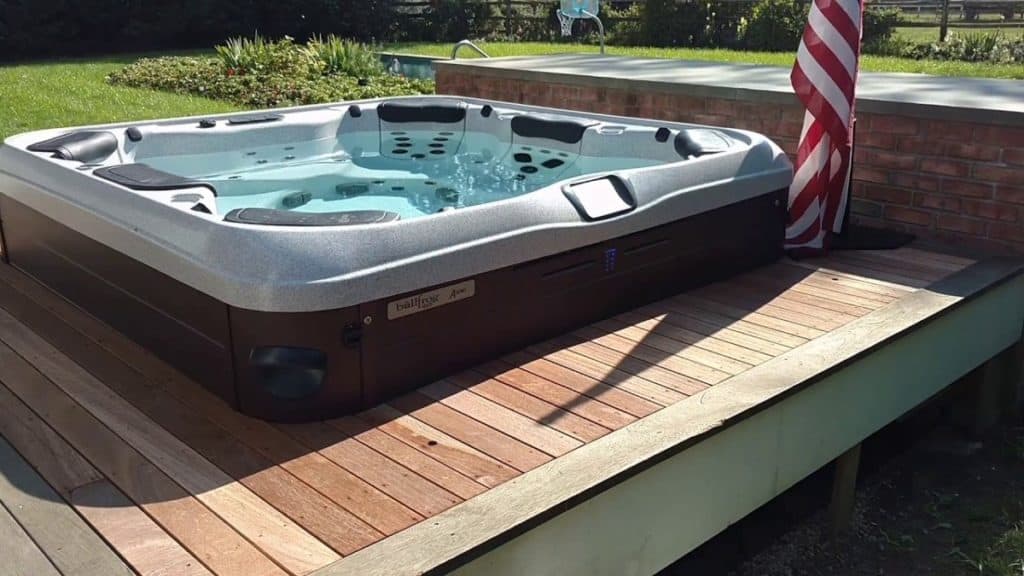 Price range: Mid-range – luxury | Sizes: 2-8 seats | Energy efficient: Yes
JetPak system
18 types of massage therapy
Many customization choices
No saltwater or UV sanitation options
Bullfrog Spas' unique JetPak Therapy System lets you customize your massage with 18 choices that each target a different type of massage therapy. Though most hot tubs offer some degree of customization when it comes to color choice and even upgradeable features, Bullfrog Spas lets you pick exactly what kind of jets and massage therapy to put in each seat. 
The interchangeable JetPaks, available for most Bullfrog Spas, give you sixteen seat back choices for each seat in your spa that require less tubing and are more energy-efficient than many spas on the market. Even though Bullfrog does sell hot tub models without the JetPak system, the interchangeable jets and customization options are really the big selling point of this brand. Aside from the pre-set models, Bullfrog also allows you to design your own completely custom spa, as well.
Hot Springs: Best Compact Areas
A hot tub company that has some of the best hot tubs for low spaces.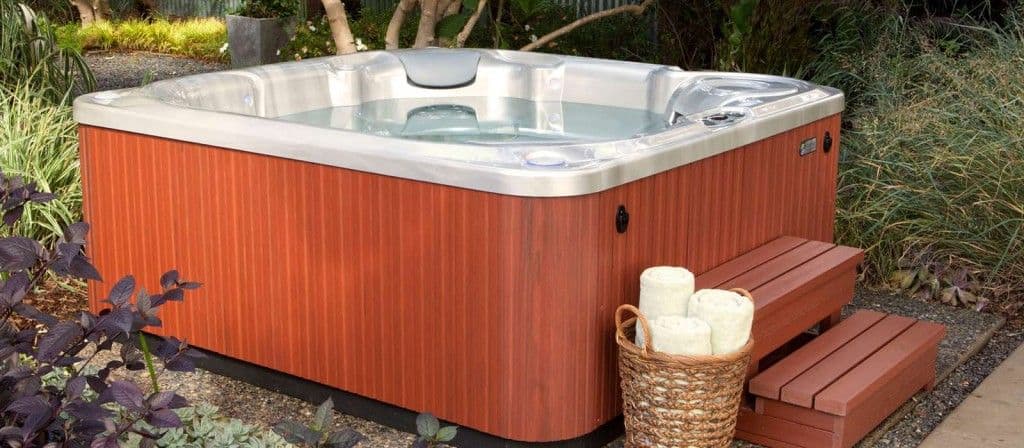 Price range: Entry-level – luxury | Sizes: 2-7 seats | Energy efficient: Yes
Five small hot tubs
Energy-efficient focus
Fewer shell color choices
No UV-C sanitation option
HotSpring has 20 hot tub models, five of which are built for two or three people. Three of these spas are part of the brand's Hot Spot collection, which fall into the value price range and have 10-17 jets. 
The other two are premium-priced spas from HotSpring's top tier Highlife collection and have 14 or 22 jets. HotSpring also has 10 medium spas and five large spas with various price ranges, all of which come equipped with energy-saving features.
Cal Spas: The Biggest Range
A hot tub company with the biggest range of spas.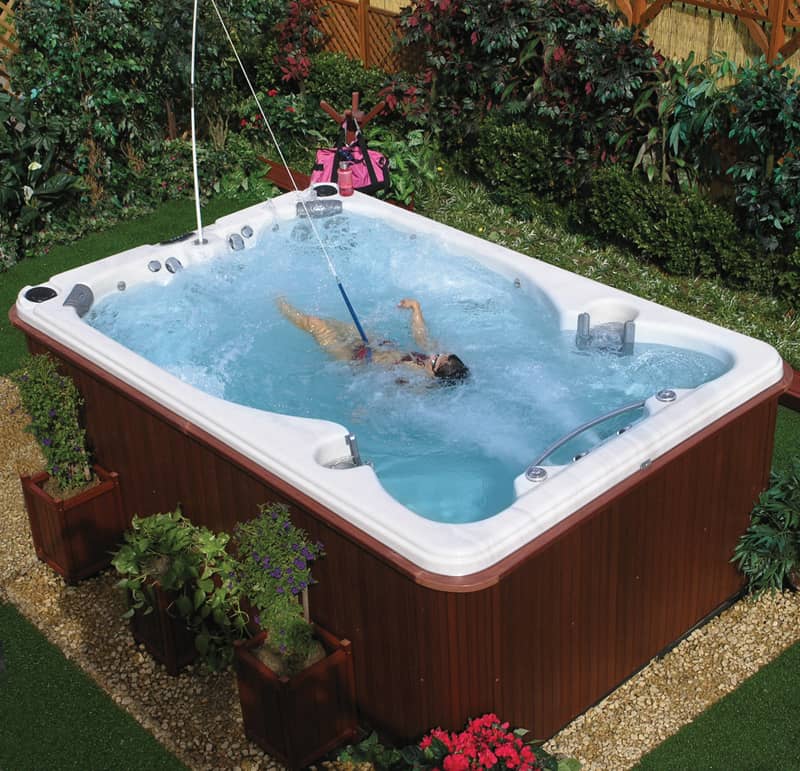 Price range: Entry-level – luxury | Sizes: 2-7 seats | Energy efficient: Yes
51 models and multiple shell colors
Saltwater, UV-C and ozone sanitation
Full foam insulation not standard
By far, Cal Spas has the hottest tubs available across its six hot tub product lines. Cal Spas also sells eight types of swim spas. The manufacturer has 51 hot tub types and several color and upgrade options as well. 
Cal Spas is one of the only spa companies with a saltwater sanitation option, as well as UV-C and ozone options. This spa brand is a great option for different hot tub shapes as it offers oval and triangle spas in addition to the usual square options. 
With so many choices, their website is difficult to navigate, and Cal Spas does not have pricing guidelines for its products, which makes narrowing down your choice without speaking to a dealer inconvenient. See if you can find cheaper deals online for the same hot tub.
How Much Is A Nice Hot Tub?
The cost of a hot tub can vary from $3,000 for a budget-priced tub to over $16,000 for a top-of-the-line spa with custom upgrades. Generally, inflatable hot tubs are the cheapest; above-ground hot tubs are more moderately priced; and in-the-ground hot tubs are the most expensive. 
Firstly you need to consider how much you have to spend, it's a good idea to research how much specific brand's running costs and maintenance will set you back.
Most manufacturers rarely list the prices of hot tubs online because there are several factors that affect the cost of each sale, including geography, dealer promotions and even the time of year.
Many companies will categorize their selections into price ranges:
budget,
entry-level,
mid-level,
premium
luxury
However, some won't provide costing guidelines unless you inquire. Bear in mind that the final cost of your hot tub might differ significantly from the cost of the tub itself, after you've included any upgrades or extras, installation and operating costs. 
Can You Negotiate Hot Tub Prices?
There are ways to get a better deal and save on the best hot tub that fits within your long term budget.
Buy Online From A Local Specialty Shop
There are three types of stores that sell hot tubs:
Big box stores – Large national retailer chains.
Specialty chains – Regional chains that specialize in the hot tub and pool industry.
Locally owned specialty shops – Locally owned stores that specialize in the hot tub and pool industry.
Big Box Stores
The biggest issue with buying from big box stores is that they lack knowledge of the product. They want to be able to sell hot tubs for as cheap as possible and their lack of expertise means that overall quality usually suffers.
The second issue is that after-sale service. Warranty work is sub-contracted out to the lowest bidder, often to companies with limited experience in the industry. These companies also typically have to service a wide area and don't keep parts on hand, meaning a long wait for repairs.
Specialty Chains
Specialty chains solve most of the problems associated with buying a hot tub from a big box store. They are much more knowledgeable and because of that generally sell a higher quality hot tub than big box stores. They also provide after-sales support like water testing and will have the most basic replacement parts in stock if something breaks.
Where specialty chains typically fall flat is service quality. While they often employ their own team of service technicians, this team has to service the whole company. This means longer wait times for repairs as the service technicians might only work one day per week in your area. Because of this, customers are often made to wait over a week for even the most basic repair.
Local Specialty Stores
Local specialty shops offer much more flexibility. Since they serve a smaller area, they can respond to most calls within a few days and carry all the parts needed to do most repairs.
Being able to deal directly with an owner is a huge advantage. Not only are they usually the most knowledgeable about the product, they genuinely care about your business. You becoming a long-term customer with them is what keeps them in business.
Best Time To Buy Hot Tub Is During Events And Holidays
The best time to buy a hot tub is during event sales and holidays. There are three reasons for this:
When businesses purchase several tubs at once, the manufacturers give them better pricing and free freight. This means that the business can sell their hot tubs for less than they normally could.
These businesses typically spend a lot of money to set-up and advertise these events, meaning they have to sell a lot of tubs just to break even.
If they don't sell all of their hot tubs, the store is either stuck with what is remaining or have to pay to send them back to the manufacturer. This gives owners extra incentive to get rid of every hot tub at the sale.
Lastly, if you really want to do your research locally, you can make use of holiday seasons and get the same hot tub online for a lot cheaper and delivered to your house.
Floor Models
If you miss the event sales entirely, you can talk to the owner of the business and see if there are any floor models they are looking to move. If you're not picky about colors, there will usually be at least a couple of these that the owner will be willing to give a great deal on; sometimes even better than event sale pricing!
Traveling Event Sales: Something To Avoid
One type of event sale to avoid is traveling event sales. These are hot tub sales put on by specialty chains outside of their normal selling territory. These chains hire professional "closers" who usually have little knowledge of the product they are selling and work on pure commission. This can lead to shady sales tactics and unrealistic promises just to get a sale. Once the event is over, service will again be an issue. This is why it is important to get a good grasp of different hot tub options out there and do your research before you buy one. Use the time spent with these events to collect more specifications and then get one online from the same manufacturer. They will probably try to upsell you a thing or two if you do it in their store, so unless you are hard as a rock when it comes to upsell, it might be better to get yours online.
Negotiate (Super Important tip #3)
The first cost you get for a hot tub is never the best so it is important that you try to negotiate as much as possible when buying a hot tub. While salespeople and managers can usually drop prices a bit, you will always get the best price from the owner.
Once you've got the best deal it's important to get it in writing. People forget and prices change, when you come back in a few weeks to make your purchase both you and the owner have to rely on memory to figure out what deal you made.
Consider Ongoing Costs
The last thing to think about when buying a hot tub is the ongoing running costs. Getting a great initial deal doesn't mean much if it costs you an arm and a leg to run the hot tub. So make sure to factor in your running costs as well as the initial costs to buy one.
When looking at the cost of ownership there are two things to consider:
energy efficiency (the cost of running the hot tub)
ease of maintenance (the time it takes to properly maintain the hot tub).
What Existing Hot Tub Owners Suggest
When it comes to buying a hot tub, tips are everything, so I found some of the best tips you will need to keep in mind when you get out to find your new hot tub:
#1: Get Cozy With Your Hot Tub
Make sure you read the instructions manual, if you want to get to know your hot tub.
Make note of where all the controls are and know what each one does.
Familiarize your hot tub model and all that it has to offer
In order for your dealer to provide you with service, you will need to know your hot tub's serial number and model.
#2: Circulate the Water
The more you circulate the water in your hot tub, the cleaner it will be.
Hot tub water is standing warm water. If it's not moving, it's standing still. If your water is stagnating, and not moving, you are providing a ready environment and breeding ground for bacteria. So, to keep algae out of your water and ensure optimum water care, keep your water circulating.
Water circulation also helps distribute your sanitizing products and keep your water balanced.
Check your manual to see if your hot tub has a built-in scheduler.
#3: Clean The Inside And Outside
Water care is important if you want to keep your hot tub clean so that you don't soak in dirty water.
Not only do you want to keep the water clean, but you want to ensure your shell (the outer part of your spa) is clean and that your filters are clean.
You should drain and clean your hot tub about every three to four months for average use. If you use your spa more often, you might want to clean it more often.
Check for waterline scum and debris often, and make sure you keep it clean. You don't want buildup on your seats.
When it comes to your cartridge filters, you can choose one of three methods. You can rinse, spray and/or soak.
Don't forget to spray the outside of your hot tub to keep it clean, too.
#4: Manage Your Hot Tub Chemistry
Hot tub chemistry is like swimming pool chemistry except you are managing a smaller amount of water, and it's hot. You need to manage the same chemicals – pH, alkalinity and sanitizer.
#5: Schedule Maintenance
Schedule regular maintenance visits with your local dealer to keep your hot tub at optimum performance.
Hot tub price range
A new hot tub will range between $3,000 to $16,000 in price. However, you can find luxurious options as high as $25,000 or so.
Top five hot tub manufacturers
There are over 100 hot tub manufacturers in the US alone. This proves how stiff the competition must be when presenting the most ideal brand. However, the top 5 leading manufacturers include
Bullfrog,
Sundance spas,
Hot springs spas and hot tubs,
Jacuzzi, and
Hot Springs from five to one.
You may find the likes of Dynasty, Marquis, and Maax in other reviewers' lists.
Best time to buy hot tubs
There is no specific time to wait to buy a hot tub, especially if they have a sense of urgency to get one. However, if you want the best prices, try shopping around September or the beginning of summer. Retailers often open up their stores for clearance at such times, making most prices stoop lower than usual. Discounts are also prevalent with other after purchase offers.
Best brand of a hot tub to buy
There is a tight competition between Sundance, Jacuzzi, and Master spas regarding overall brand preference in the US. Sundance is an ideal high-quality choice, and many people picture it as a luxurious brand. Jacuzzi has many accessories and is a high-performance option. If you are looking for the best values, then Master spas is a recommendable brand.
When do hot tubs go on sale?
In most countries, hot tubs go on sale during summer when the demand spikes. This is around September in the US, and it can extend to October. You will find quality and affordable options during a brand's clearance sale aside from the general retailer's sales season.
How to decide what hot tub to buy
People buy hot tubs for different reasons. When deciding on which one to get for your home, consider the tub's size plus the space you see it occupying.
How many people do you want it to hold per round? If you want one that is open to the public, then factors such as ease of maintenance could come in. Color is not always a big issue when buying a hot tub, but some people have preferences.
Most expensive hot tubs for sale
Jacuzzi, Royal, Platinum, and Spas Galaxy are among the most luxurious hot tubs brands you will find in the world today. The Spas Galaxy GX 49 retails at $29,000, which is relatively high even for its luxury counterparts. The Jacuzzi J 470 follows closely at $27,000 and Platinum Spa's Big Jacuzzi at $25,000.
Buying a hot tub online
Buying a hot tub online is not always recommendable, especially if the seller is not popular. However, if you have to, consider going through a site's review. Here, you get to see what other buyers say about their interactions with the seller.
Check the tub's features and consult with friends who have bought one online too. Buying a hot tub online from the manufacturer might be the safest way out. Check that you agree with their payment plans plus their terms and conditions.
What to look for when buying a hot tub
If you are looking to get a hot tub for the first time, ensure that you are conversant with all the functionalities that an ideal hot tub should have. Never buy a second-hand hot tub without testing, as this might lead to significant losses. Ensure that the tub is in excellent condition; it contains all the accessories as per the seller's advert and read through the return or warranty policy.
Can you negotiate hot tub prices?
Like purchasing any other equipment, most sellers leave room for negotiation. You will often find that the first price is only a high quote that maximizes the seller's profits. For a comfortable price, share how much you are willing to spend and then reach a middle ground with the retailer.
Hot tub purchase price
Hot tubs range from $2,000 to $15,000 as an average purchase price. You can, however, get a luxurious choice for $30,000. The quoted price is not always the total purchase price. To get the full picture, include transportation and installation costs.
Bio-magnetic therapy hot tub
Most bio-magnetic therapy hot tubs are standard hot tubs with bio-magnetic therapy accessories. Therefore, anyone can turn their tub into a bio-magnetic therapy tub by adding powerful magnetics behind the neck and shoulder seats. If you buy all legend series hot tubs, the bio-magnetic therapy system comes as a standard feature.
Entry-level hot tub
Hot tubs are considered to be at the entry-level if they only have the basic regular features. Most have ideal performances and come in different shapes and sizes. With about $3,000, you can purchase a good and long-lasting entry level hot tub. However, it would help if you considered at least a medium option for better experiences and reliability.
Best compact hot tub
Compact hot tubs are otherwise known as small hot tubs. They are significantly subsidized in size, and you will not get one that holds more than four people. The most ideal brands for compact hot tubs include inflatable hot tubs, QCA spa models, and Goplus.
How much is a good hot tub?
With as little as $2,000, you can get a functional hot tub. However, it is said that the pricier the tub, the better the quality, although this is theoretically speaking. With this in mind, you should be willing to spend at least $3,000 to $4,500 for a tub you can stay with for at least fifteen years.
Pros and cons of owning a hot tub
The best part of owning a tub is the private luxury you get at the comfort of your compound. You also experience health-related advantages, such as relaxed muscles and therapeutic benefits. However, you must be willing to entertain the jets and pump's noise with some models plus a high electricity bill if you use an electric-powered tub.
How much does a hot tub cost?
Hot tubs keep getting affordable with technological improvements. With about $2,000, you will get an ideal new tub. Used ones are cheaper, going as low as $500.
Best mid-range hot tubs
Most high-end hot tubs have mid-range releases that are just as good. Inflatable hot tubs also make an excellent option for people looking for incredible tubs but not too expensive. AquaRest, Coleman, Master Spas, and PDC spas make excellent choices for any mid-range option.
Best hot tub shell color
Hot tubs' shells play a significant role in how people relate to and feel their hot tubs. One's preference will be the determining factor when deciding what the best hot tub shell color is in many cases. White shades are quite popular and offer a classic feel to your tub. They are also great at telling when the tub needs cleaning since a slight fade will always show. However, dark colors such as sleek black hues and darker blue shades bring a sense of unique esthetics. Shining marble comes in both bright and dull colors.
Hot tub base crushed rock
While the crushed rock base for your tub looks great to the eye and is cheaper, you will need to pack it quite tight for a better outcome. You might also need wood foam and tub's carpets for comfortability. Unless it's your preference, it might not be the best option when it comes to safety and easy maintenance.
Recommended Articles: