Are you in doubt thinking which one should I get, and inflatable or hard shell, regular hot tub? Let's see. Both, an inflatable and regular hot tub is a fantastic alternative to a pool if you don't have enough space, or if you just want somewhere to sit and relax or exercise, no matter what the weather.
Both inflatable hot tubs and regular hot tubs require chemical balance. If you are going to be using them long-term, leave the water inside the tub.
While an inflatable hot tub might be a short term investment, an in-ground hot tub is a more permanent investment for those who want the full hot tub experience, making far better use of the chemicals and maintenance.
The choice most of us face once we decide we want the experience of a hot tub, is whether you prefer an inflatable hot tub vs regular hot tub.
We take a look at the differences between the two options to help guide you on the best value for money when deciding on which option to purchase.
There are some basic similarities as well as major differences between a portable hot tub and a regular hot tub, however, the tubs break down into two categories, inflatable tubs vs regular spas.
Both of these options have pros and cons to help you decide which option suits your needs best.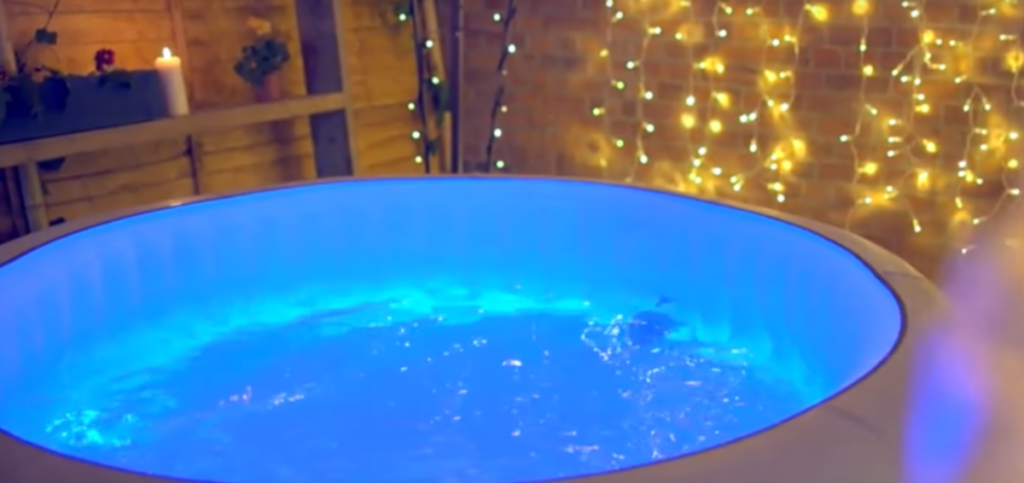 Pros And Cons Of An Inflatable Hot Tub
Pros
Cons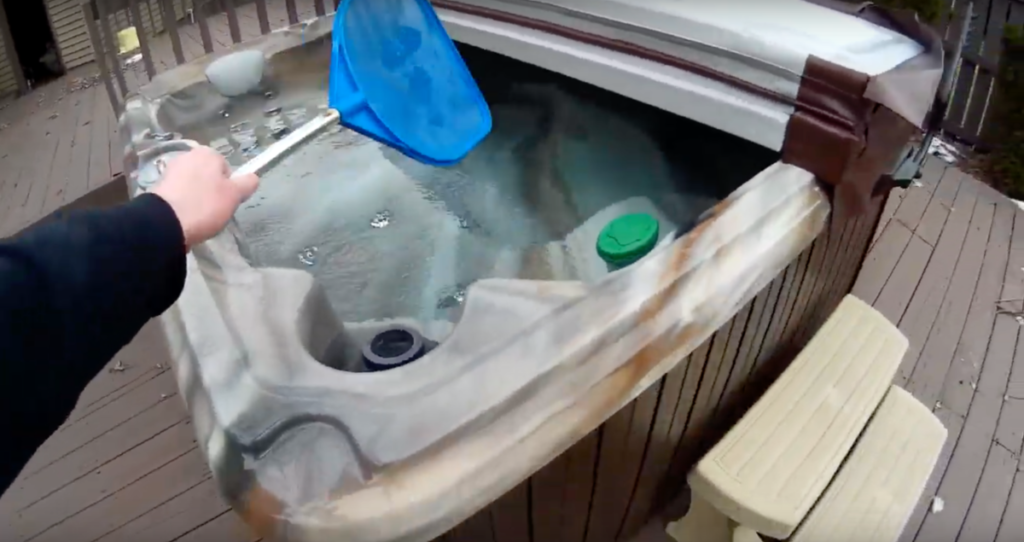 Pros And Cons Of A Regular Hot Tub
Pros
Cons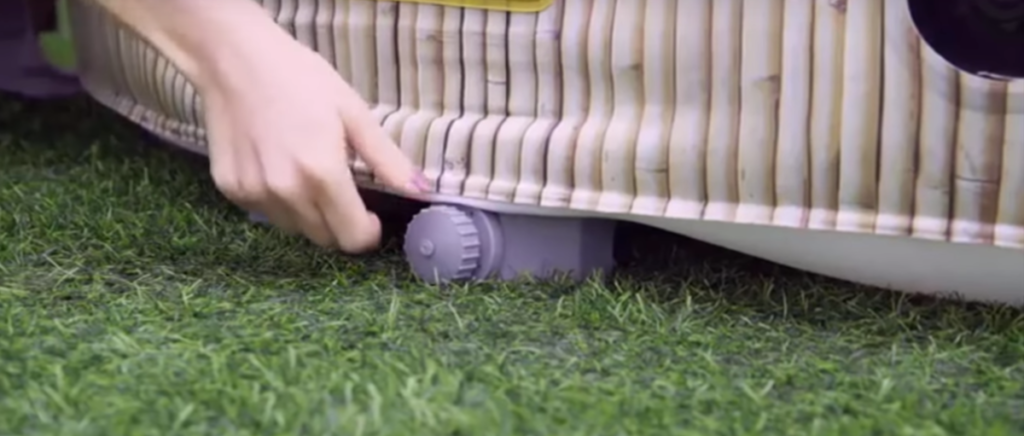 Disadvantages of hot tubs
The spa outbreak
Also known as Pseudomonas dermatitis or Pseudomonas folliculitis, the spa rash is an infection caused by the germ Pseudomonas aeruginosa that causes itching, a red, bumpy rash, and pus-filled blisters. The rash usually appears after a few days and goes away on its own (if not, see your doctor!). The best way to avoid it: Don't let your body soak for long periods of time in a bathtub that you don't clean or care for. Or, if you do, shower immediately afterwards and clean your bathing suit.
Legionnaires' disease
Legionella is a germ that causes a severe type of pneumonia that you can contract by breathing in bacteria from steam in a contaminated hot tub. Symptoms such as headache, muscle aches, chills and fever usually appear a day or two after swimming. Depending on the Mayo Clinic, coughing with mucus or blood, shortness of breath, chest pain and confusion may occur on the second or third day. People over 50 years of age who smoke and have chronic lung disease are most susceptible to Legionnaires' disease.
Irritation from body fluids.
I'm sorry, but this will disgust you. Charles Gerba, professor of microbiology and environmental studies at the University of Arizona, spoke to the Huffington Post about fecal bacterial contamination in spas. "The average swimmer has about a tenth of an ounce of fecal matter in their butt crease, which is a nice way of saying 'butt crack.'" With five people soaking, "you've got a tablespoon of poop in the spa," he says.
Urinating in a pool can be pretty bad, but so is peeing in a chlorine-filled hot tub. When urine, sweat and feces mix with the chlorine, it can create an irritant called chloramine, which can cause mild symptoms like coughing and red, irritated eyes. It's important to rinse off after a hot bath, but it's even more important to shower before entering the hot tub to prevent the spread of bacteria.
Shigellosis and E. coli.
These common strains of bacteria, also spread by poorly maintained pools and dirty bodies entering and leaving them, can cause stomach pain, fever and diarrhea. Swimmers can contract shigellosis and E. coli from drinking contaminated water, but both are usually treatable without medical attention.
Diseases caused by parasites
Crypto is one of the most common waterborne diseases in the United States and is caused by ingestion of a microscopic parasite called Cryptosporidium. Because the parasite has a hard outer shell, it tolerates chlorine. Many people with healthy immune systems can recover without medical intervention, but may still experience diarrhea, fever and vomiting if infected.
Giardia, another common parasite found in contaminated water, is also chlorine tolerant and can infect patients with giardiasis. Symptoms include diarrhea, dehydration, and abdominal and stomach cramps.
Scald and burn.
Thermal burns are more common with water than with fire. You would have to sit in 113-degree water for two hours to get severe second-degree burns, and the water should never be above 104 degrees. Experts recommend that adults spend no more than 15 minutes at a time in a hot tub.
Risks during pregnancy
Sorry moms-to-be, if the above doesn't scare you, your OB/GYN will. The American College of Obstetricians and Gynecologists (ACOG) recommends that pregnant women never allow their core body temperature to rise above 102.2 degrees, as this can lead to birth defects. ACOG recommends that pregnant women limit their time in spas to 10 minutes or they are at higher risk for hyperthermia. Oh, and contrary to this old wives' tale, you can actually get pregnant in a hot tub.
How Long Do Inflatable Hot Tubs Last?
The lifespan of your inflatable hot tub depends on you. The maintenance you would offer all its components would play a huge role in determining how long you can enjoy those long hot baths.
The average lifespan of a hot tub is between5-20 years. However, for this to happen, there are some parts you ought to pay more attention to;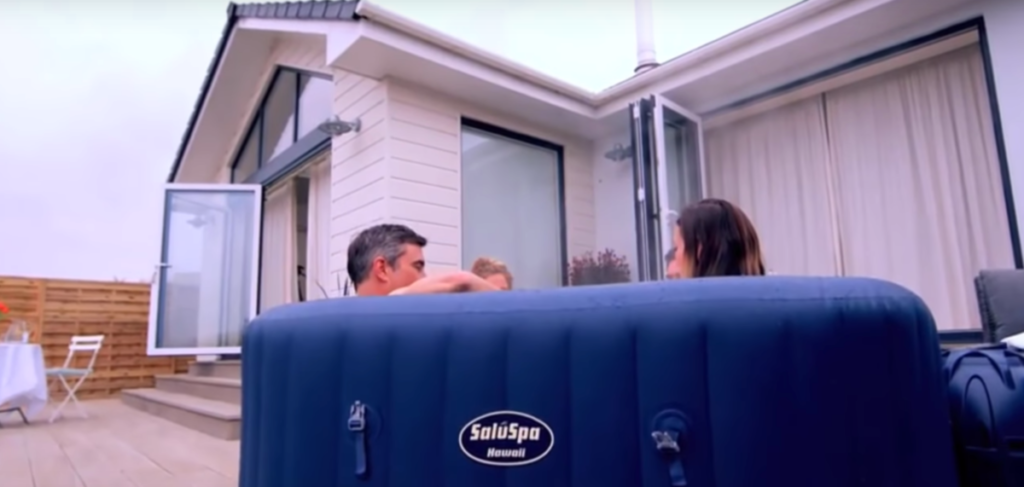 What Is The Difference Between A Spa And A Hot Tub?
Spa
A spa is a hot tub equipped with strong jets that mix air into the water for a stronger massage effect. A spa can be above solid ground, inflatable spas, or sunk into an indoor floor or outdoor deck, or they can even be part of an in-ground swimming pool.
Hot Tub
A hot tub is a large size tub or small pool full of hot water and used for hydrotherapy or pleasure. Some have jets for massage purposes, sometimes also known as spas.
A typical hot tub is (usually) around the wooden tank with a simple bench seat and 4-8 jets around the side. A hot tub is a hot soak, without noisy equipment and turbulent bubbles bouncing you off the seat.
Are Inflatable Hot Tubs Good In Winter?
Despite the fact that most inflatable hot tubs are not rated for use in air temperatures below 40° F, it is common for people to use their portable hot tubs in the wintertime. If you are searching for an inflatable spa to use in cold weather, there are some characteristics that you should look for and some precautions you should take.
It has been proven that inflatable hot tubs can maintain their max water temperature in air temperatures well below freezing and can be enjoyed all winter.
An air temperature rating is the manufacturers guarantee that if you fill up your spa with cold water, it will be able to increase the water to max temperature and maintain that max temperature as long as the ambient air temperature is equal to or above the tub's rating. So, if the inflatable spa is rated at 40° F, and you take it out on a 40° fall day, fill it with hose water, and turn on the pump.
Do Inflatable Hot Tubs Have Seats?
Inflatable spas typically don't include seats. Most models include some sort of cushioned bottom on which to sit, which feels relaxing enough, you can however buy them separately.
Are Inflatable Hot Tubs vs Regular Hot Tubs Dangerous?
There are some health risks in owning and using a hot tub, as long as you are aware of them they can easily be avoided by being careful and vigilant while using your hot tub, and always making sure you keep your hot tub, filter and the water in it hygienic and clean.
Slips and Trips
It is always possible that someone could have an accident, you might slip and fall when getting in or out of the hot tub; or you might slip on the surface area around the hot tub if it's wet, therefore always be careful when you get into and out of the hot tub.
Scalded or Burned Skin
The maximum temperature your inflatable hot tub heating can reach is 104F. This is the industry-wide standard to prevent your skin from getting burned or scalded.
Therefore, you should think about limiting the time a person spends in the hot tub to a maximum of 20-25 minutes in one go; while for children, 5 minutes is more than enough.
Hygiene
The thing to keep in mind is that a properly maintained inflatable hot tub, along with clean and sanitized water, is your best defence to control against any health risks.
Do You Leave Hot Tubs On All The Time?
Yes, you should leave your hot tub all of the time. Hot tubs are designed to always be switched on and it's more economical to keep the water hot than it is to heat it up from cold each time you want to use it.
The main reason that hot tubs should be left on is that it takes a relatively small amount of electricity to keep your hot tub going once it has reached the correct temperature. This is particularly true in the summer if you have a good quality cover and if your hot tub has a high level of insulation. In fact, it's possible that your hot tub will use very little energy in this situation.
However, the colder the ambient temperature is the more energy it will use to keep hot. Also, if your hot tub hasn't got particularly good insulation then it will use more energy on a day to day basis to keep warm. Despite this, the general advice is to keep your hot tub running all the time as a number of issues and problems can occur when the hot tub is sitting idle.
If your hot tub is left empty it can become prone to leaking and the leftover water in the pipes can freeze and damage the pipework. The water in the pipe will become stagnant and bacteria and algae will grow in the stagnant water.
There are some occasions when it's obviously necessary to switch your hot tub off. The most obvious is when you are draining, cleaning and refilling it. It's recommended to do this every 3 months or so to keep the water in the best condition and to keep the hot tub in as fresh and clean condition as possible.
If you decide to turn your hot tub off for a certain amount of time, you should ensure that the hot tub is carefully drained and prepared for the time it will remain unused.
Recent Posts
link to How Much Should I Spend on a Hot Tub?
When planning to buy a hot tub, you should be ready to spend at least several hundred dollars at the minimum. A hot tub installed above the ground will cost at least $316. This is the estimated...
link to Can You Run A Hot Tub With The Cover On?
A hot tub cover is really important for trapping the heat inside your hot tub. That will lead to reduced electricity costs and a better bathing experience. But, can you run a hot tub with the...